Tony Llewellyn wins landslide by-election
Posted Sun 12th October 2008 at 12:00

Tony Llewellyn is Alderney's newest States member after winning Saturday's by-election by a landslide.

Mr Llewellyn polled 222 votes to beat Geoffrey Sargent (113) Lois FitzGerald (85) and Martin Hunt (56).

He will replace Richard Cox, who resigned from the States in May, and serve until 31 December 2010. His first duty will be to meet all his colleagues before being sworn in at next Wednesday's States meeting.

A semi-retired chartered engineer by profession, Mr Llewellyn, 75, has lived in the island for 11 years. He admitted to being 'gob-smacked' after winning.

'I'm slightly gob-smacked but very, very pleased. I just hope that I shall be able to do all that's required of me over the next two years.'

Mr Llewellyn said it would take time for him to get used to being a politician.

'The States won't change immediately now I've been elected. It's going to take time for me to settle in and learn the ropes because I'm a new boy. I don't know how it works and I've got an awful lot of learning to do.'

Mr Llewellyn spoke out against the building of a marina at the recent hustings and said he would continue to resist the project unless somebody could show him it's genuinely viable.

'From what I understand the marina idea is still very much going through the business study stage. However, I shall resist it in the States unless somebody can show me it's genuinely viable and that the people want it.

'Nobody's asked the people yet, there's just been a relatively small public exhibition. Nobody has actually said "do you want it?"'

Mr Llewellyn went on to say he would fight to improve various issues in the island.

'There are too many things going on that I'm not happy with, including infrastructure and the lack of community care.

'Also, we desperately need something done for the younger people in the island because they don't care about the States, they're not interested.'

The by-election, which is the second to be held in the island in the last 12 months, attracted 38% of the electorate.
Related story: Alderney gets more time to register for vote
---
Next story: States warned not to sting second home owners
Previous story: Marina heats up hustings
Current issue 1284 - Dec 1st 2023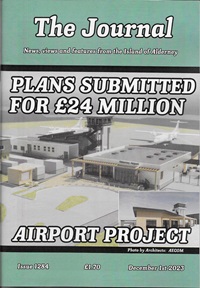 PLANS SUBMITTED FOR £24 MILLION AIRPORT PROJECT
Back Issues
Back issues
of the Journal are now available

The Guernsey Bereavement Service has made three visits to Alderney over the past few months and would like to continue to help you. We are visiting the island again on Tuesday, 12th November 2013 and would invite anyone who feels they would like Bereavement Counselling to telephone the Bereavement Service Office on 257778 to make a time to meet one of our counsellors.

What's on in Alderney

, ,

, ,
Journal all over the World

Great Wall photo wins picture prize
Things to do in Alderney
Contact details of Alderney Clubs and Societies