Families tell of shock over Dr Lyons inquiry
Posted Mon 13th April 2015 at 14:01
Grieving families of two of the four Eagle Medical Practice patients whose deaths are now being investigated by police, say they are baffled as to why their loved ones have become involved.

Yvonne Deegan, wife of Bernie, who died in hospital after an on-going battle with cancer, said the investigation had come as "a shock". She spoke out on her unwavering support for the GP at the centre of the inquiry, Dr Rory Lyons.

Arthur Wheeler, husband of Ann, another of the four patients involved, said he was baffled as to how Health and Social Services Department could have concluded that his wife's death was "of concern" - as was their failure to notify families of the investigation before the day of the raid.

The raid on the surgery was carried out after HSSD received a complaint - from who it is not yet clear - about the treatment of an Eagle Medical Practice patient who died while under Dr Lyons' care earlier this year.

HSSD officials looked into the matter and identified three further deaths they deemed "of concern" that had happened over the past 18 months - mostly patients who had died suddenly or shortly after entering hospital. In recent weeks the investigation was passed onto the police to launch a criminal enquiry into the matter, and at 10.30am on April 2nd Guernsey police officers entered the Eagle Medical Practice and came away with medical records of the four patients involved.


---
Next story: Glamping comes to campsite and new wet weather room opens
Previous story: No midwives at the Mignot for expectant mums
Current issue 1283 - Nov 17th 2023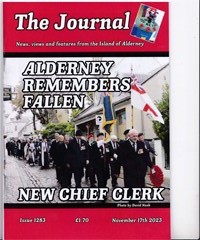 ALDERNEY REMEMBERS FALLEN
NEW CHIEF CLERK
Back Issues
Back issues
of the Journal are now available

The Guernsey Bereavement Service has made three visits to Alderney over the past few months and would like to continue to help you. We are visiting the island again on Tuesday, 12th November 2013 and would invite anyone who feels they would like Bereavement Counselling to telephone the Bereavement Service Office on 257778 to make a time to meet one of our counsellors.

What's on in Alderney

, ,

, ,
Journal all over the World

Great Wall photo wins picture prize
Things to do in Alderney
Contact details of Alderney Clubs and Societies