Alderney gets more time to register for vote
Posted Mon 3rd November 2008 at 09:30
Islanders are being given more time to register for the vote.

The electorate was originally given until October 15 to sign up for three upcoming polls.

However, chief executive David Jeremiah has used a provision in the law to alter the date by which residents have to subscribe to the electoral roll.

Those wishing to vote in the Presidential election now have until November 3, while those intending to vote in the end of year elections, where five seats on the States will be up for grabs, have until November 17.

Islanders wanting to vote in the plebiscite, which elects two States members to act as Alderney's representatives in Guernsey, have until November 28.

President Sir Norman Browse reiterated the fact that Alderney's residents must sign up to the electoral roll every three years. He said registering once did not guarantee you a vote for life and that it was embarrassing for all concerned when a person arrives at the Island Hall on polling day only to be told they are ineligible to vote.

At its October meeting, the States unanimously agreed to hold the Presidential election on November 22. The island's politicians also ratified plans to hold the ordinary elections on December 6 and plebiscite on December 8.
Related story: Tony Llewellyn wins landslide by-election
---
Next story: States to vote on tidal project
Previous story: States spends £1,500 on chicken cull
Current issue 1284 - Dec 1st 2023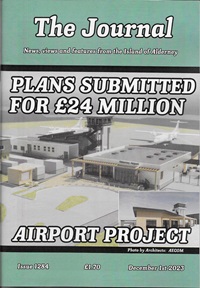 PLANS SUBMITTED FOR £24 MILLION AIRPORT PROJECT
Back Issues
Back issues
of the Journal are now available

The Guernsey Bereavement Service has made three visits to Alderney over the past few months and would like to continue to help you. We are visiting the island again on Tuesday, 12th November 2013 and would invite anyone who feels they would like Bereavement Counselling to telephone the Bereavement Service Office on 257778 to make a time to meet one of our counsellors.

What's on in Alderney

, ,

, ,
Journal all over the World

Great Wall photo wins picture prize
Things to do in Alderney
Contact details of Alderney Clubs and Societies