Marina heats up hustings
Posted Thu 2nd October 2008 at 11:20

Alderney's by-election candidates are split over whether a marina should be built in the island.

Lois FitzGerald, Martin Hunt, Tony Llewellyn and Geoffrey Sargent all took part in hustings ahead of the 11 October poll on Wednesday night at the Island Hall.

Each of them answered questions on the cost of living, the smoking ban and proposed leisure centre but it was the marina which caused most debate at the gathering, which was attended by about 75 members of the public.

Retired chartered engineer Tony Llewellyn, 75, spoke first on the subject.

He said: 'I do not see great value in a marina. I have been told it will bring income and employment but I can't see it happening.

'I don't believe it can be built for £5m. and I also fail to see why a private developer has not come to the island and said they want to build a marina here and make a fortune from it.'

Mr Sargent, 70, a semi-retired chartered accountant, said: 'I do think a marina will bring income to the island. A lot of people don't like coming here and tying their boat to a swinging mooring. Residents would also like to moor their boats.

'This is a long-term project and we cannot say it will be financed by the States. It won't make a fortune but there aren't fortunes to be made here.'

Mr Hunt, 66, a retired principal officer for a dog rescue society, said: 'I think talk of a marina is sheer optimism. It would be a nice facility but who is going to pay for it?

'I don't think it is an option at the moment and I don't think there is the money to build it. I also think there are other things that are much more important on the island at the moment.'

Ms FitzGerald, a 63-year-old businesswoman, said: 'There needs to be a lot more discussion but we should find a way to build a marina. This is exactly the time when we should be looking for a way of building a marina.

'If we keep Alderney the way it is our income is going to keep going down and down.

Where is your energy, gentlemen? I don't see it.'

The by-election is being held to find a replacement for Richard Cox, who resigned from the States in May. Whoever wins the poll will hold office until the remainder of Mr Cox's term, which ends on 31 December 2010.

This is the second by-election to be organised since Mr Cox's resignation after the first one, scheduled for June, failed to attract any candidates.
---
Next story: Tony Llewellyn wins landslide by-election
Previous story: You could be Alderney's first medallist
Current issue 1284 - Dec 1st 2023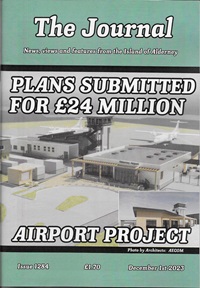 PLANS SUBMITTED FOR £24 MILLION AIRPORT PROJECT
Back Issues
Back issues
of the Journal are now available

The Guernsey Bereavement Service has made three visits to Alderney over the past few months and would like to continue to help you. We are visiting the island again on Tuesday, 12th November 2013 and would invite anyone who feels they would like Bereavement Counselling to telephone the Bereavement Service Office on 257778 to make a time to meet one of our counsellors.

What's on in Alderney

, ,

, ,
Journal all over the World

Great Wall photo wins picture prize
Things to do in Alderney
Contact details of Alderney Clubs and Societies