You could be Alderney's first medallist
Posted Thu 25th September 2008 at 11:00

The message to Alderney's sports fans is simple - your island needs you!

Preparations for next year's Island Games are well underway and organisers in Alderney are hoping to send more competitors to Aland, which is situated in the Baltic Sea between Finland and Sweden, than ever before.

Aland, which has a population of 27,000, is gearing up to host the biennial sporting festival for the second time and organisers are already predicting a record-breaking turnout next June.

Helen Southam, secretary of the Island Games Association (IGA), is hoping Alderney will beat the number of competitors it sent to Rhodes for the last games.

Helen said: "About 20 people have signed up so far but we're looking for others to get involved. We took 30 to the last Games and would like to think we can beat that number next year."

Those who would like to take part need to have lived in the island for at least a year, or have relatives here.

Helen said: "We're encouraging anyone who has sporting talent to get involved. It doesn't matter if you haven't lived here all your life, or if you just have family here.

"Alderney's only a small place so we need all the talent we can get our hands on."

Helen admits the standard of competition is high at the Games but stresses it's the taking part that counts.

"Some of the competitors will have competed at a high level in the past but that shouldn't put people off. The Island Games is about people taking part and giving it a hundred per cent.

"Very few people ever get to take part in an international sporting event, like the Olympics or Commonwealth Games, so this is their chance to have a go."

Helen's teenage son Lloyd competed in the sailing competition in Rhodes and was Alderney's flag bearer during the opening ceremony.

Helen said: "It was a wonderful experience for Lloyd. He got to compete in a brand new boat and go up against sailors who had taken part in prestigious competitions."

Though Alderney has yet to win a medal at the Games since their inception in 1985, Helen believes the unpredictable nature of sport could work in the island's favour.

She said: "You never know in sport. All that counts is what happens on the day. It would be wonderful if someone from Alderney managed to win a medal but all we're really concerned about is taking part."

Helen is hoping Alderney's introduction to the 24 other islands will be slightly different in Aland than it was in Rhodes.

She said: "Each island is introduced at the opening ceremony and the announcer always says a little something about the place.

"It's usually something along the lines of, 'here comes Bermuda; the oldest overseas British territory'. However, when it was our turn in Rhodes, the announcer said, 'here comes Alderney. Alderney has an ageing population'.

"We're hoping the announcer in Aland says something different!"

Accommodation for every athlete who takes part in Aland will be provided free of charge, while flights and transfers will be subsidised by Alderney's Island Games Association.

The sports on offer in Aland will be: archery, athletics, badminton, basketball, football, golf, gymnastics, judo, sailing, shooting, swimming, table tennis, tennis, volleyball and windsurfing.

Anyone interested in representing Alderney should contact Helen on 01481 823481.

For more information about the host island click here.
---
Next story: Marina heats up hustings
Previous story: Cruel blow for airport chickens
Current issue 1284 - Dec 1st 2023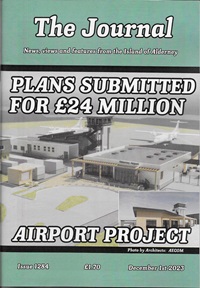 PLANS SUBMITTED FOR £24 MILLION AIRPORT PROJECT
Back Issues
Back issues
of the Journal are now available

The Guernsey Bereavement Service has made three visits to Alderney over the past few months and would like to continue to help you. We are visiting the island again on Tuesday, 12th November 2013 and would invite anyone who feels they would like Bereavement Counselling to telephone the Bereavement Service Office on 257778 to make a time to meet one of our counsellors.

What's on in Alderney

, ,

, ,
Journal all over the World

Great Wall photo wins picture prize
Things to do in Alderney
Contact details of Alderney Clubs and Societies