Grass runways restored for full use
Posted Wed 4th June 2014 at 11:39


All three runways at Alderney Airport are expected to be back in full operation within two weeks.

Improved drainage and extensive repairs mean the asphalt strip and the longer of the two grass strips are already in use. The shorter grass runway is expected to open in June, following an inspection by the Channel Island Aviation Authority. Water-logging around the remaining asphalt strip in February reduced its useful width by a fifth and its length from 877 metres to 799 metres. Now, following a review by the Director of Civil Aviation the operational length has been restored to 877 metres. Most of the remediation work has been carried out by Alderney Airport Fire Service.

David Chiswell, chairman of Alderney Flying Club, welcomed the news. "This will help to build on the momentum we had last year with increasing visits by private pilots and it is timely with the Fly-In happening on 4-6th July," he said.

"It is also encouraging that the airport authorities see that regular maintenance and permanent long term solutions are still needed and we will look forward to action on those fronts."


---
Next story: Dorniers get green light
Previous story: Joy for mums campaigning for toddler park
Current issue 1270 - May 19th 2023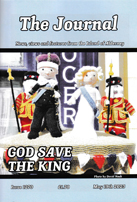 Back Issues
Back issues
of the Journal are now available

The Guernsey Bereavement Service has made three visits to Alderney over the past few months and would like to continue to help you. We are visiting the island again on Tuesday, 12th November 2013 and would invite anyone who feels they would like Bereavement Counselling to telephone the Bereavement Service Office on 257778 to make a time to meet one of our counsellors.

What's on in Alderney

, ,

, ,
Journal all over the World

Great Wall photo wins picture prize
Things to do in Alderney
Contact details of Alderney Clubs and Societies