Caught speeding at 26mph
Posted Thu 1st September 2011 at 14:20
Alderney's court fined a man £200 for speeding at 26mph.

Guest house owner Christopher Hodgson, 60, was driving in a 15mph zone outside St Anne's School when he was clocked by a police officer with a speed gun.

Crown Advocate Graeme McKerrell, prosecuting, said: "PC Malcolm Messenger was conducting speed checks in Newtown Road. At 15.11 he saw a blue and silver coloured Suzuki Jimny travelling at a speed thought to be at least 20mph. He used a laser check device and it showed Mr Hodgson was travelling at 26mph.

"The officer caused the vehicle to stop and indicated the speed reading of the device.

Young persons were walking along the road at the time of the offence. The weather conditions were sunny and the road was dry."

Hodgson, who represented himself in court, said: "I've had a clean driving licence for 42 years. It was just a lapse of concentration. I do apologise."

Sentencing, Jurat Colin Partridge said: "You were driving fast at a time when the school was coming out."

Hodgson was given seven days to pay. He avoided being disqualified.


---
Next story: States member banned and fined
Previous story: Economy is analysed
Current issue 1284 - Dec 1st 2023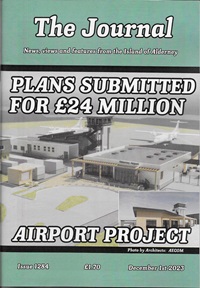 PLANS SUBMITTED FOR £24 MILLION AIRPORT PROJECT
Back Issues
Back issues
of the Journal are now available

The Guernsey Bereavement Service has made three visits to Alderney over the past few months and would like to continue to help you. We are visiting the island again on Tuesday, 12th November 2013 and would invite anyone who feels they would like Bereavement Counselling to telephone the Bereavement Service Office on 257778 to make a time to meet one of our counsellors.

What's on in Alderney

, ,

, ,
Journal all over the World

Great Wall photo wins picture prize
Things to do in Alderney
Contact details of Alderney Clubs and Societies