States member banned and fined
Posted Thu 1st September 2011 at 14:22
Alderney States member Geoffrey Sargent has been banned from driving for a year after pleading guilty to allowing his daughter to drive while uninsured.

Mr Sargent, chairman of the Building and Development Control Committee, was also fined £750 at the Court of Alderney.

His student daughter Elizabeth, 19, avoided a ban but was fined £500. She pleaded guilty to driving while uninsured.

The court heard Elizabeth Sargent was stopped by PC Malcolm Messenger in Route de Crabby while being given a driving lesson by her mother, Pamela Sargent, on 15 April.

The next day both defendants attended the police station, where Elizabeth Sargent produced her driving licence and Geoffrey Sargent, 73, produced an insurance certificate.

However, the only named drivers on the certificate were Geoffrey and Pamela Sargent.

Geoffrey Sargent, of Le Bonheur, Val Reuters, thought his insurers had made a mistake and later contacted them. He subsequently produced a certificate bearing all three names, but it was dated after the offence.

During police interview Elizabeth Sargent said she presumed she was insured and that her mother would not have taken her out had she known that wasn't the case.

Advocate Julia White, mitigating, appealed for special circumstances in Elizabeth Sargent's case, which Jurats accepted.

Advocate White said Elizabeth Sargent had no idea she was uninsured and had trusted her parents. She also said the teenager is due to take a driving test this month and that a ban would prevent her from doing so.

Pamela Sargent was called as a witness and admitted everyone involved had made wrongful assumptions.

Sentencing, Jurat Colin Partridge said the court took a serious view of the matters. He gave both defendants seven days to pay.


---
Next story: Cash taken from school
Previous story: Caught speeding at 26mph
Current issue 1279 - Sep 22nd 2023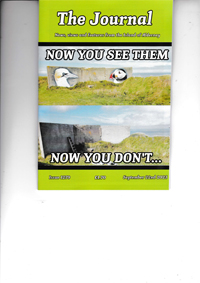 Back Issues
Back issues
of the Journal are now available

The Guernsey Bereavement Service has made three visits to Alderney over the past few months and would like to continue to help you. We are visiting the island again on Tuesday, 12th November 2013 and would invite anyone who feels they would like Bereavement Counselling to telephone the Bereavement Service Office on 257778 to make a time to meet one of our counsellors.

What's on in Alderney

, ,

, ,
Journal all over the World

Great Wall photo wins picture prize
Things to do in Alderney
Contact details of Alderney Clubs and Societies