Trought is elected President
Posted Sat 11th June 2011 at 19:46

Stuart Trought is Alderney's new States President after winning today's poll by a landslide.

He polled 487 votes, ahead of Bill Simpson (239) and Paul Arditti (105), and will be sworn in at this month's States meeting. Turnout was high for a Presidential poll at 65 per cent after 845 people voted. There were 13 spoilt papers.

Mr Trought replaces Sir Norman Browse, who has led Alderney's government since 2002. Sir Norman triggered the Presidential by-election after deciding to stand down before he turns 80.

Retired mariner Mr Trought, 60, said he wanted to be a unifying President.

"I feel very pleased with the trust the people of Alderney have put in me and I look forward to a challenging time ahead doing my utmost to help Alderney.

"I'd like to be a unifying President. I'd like to be a President that helps Alderney get over some of its problems and helps steer it through the troubled times we're in."

Mr Trought, whose first term of office runs until December 2012, said he didn't see himself as a political President.

"This is the first time I've entered politics. I don't carry any political baggage and what I want to try and do is find a clear vision forward to Alderney's advantage. My priorities are to delve into the innards of what's going on and find the correct path forward."

Author Mr Simpson said not being Alderney-born had cost him.

"I think I've fought as hard as I could. I was always coming from behind as I'm not locally born. I think the main thing is that I have been held in high regard by people I've met during the campaign and clearly that respect is something which I value.

"I offer my congratulations to Stuart on a well fought campaign."

Mr Arditti will remain as a States member and one of Alderney's Guernsey representatives after coming third in the poll. He would have had to give up those roles had he been elected.

Mr Arditti said: "It's good we have a clear decision for Stuart Trought as our President by a wide margin and I'm very pleased about that.

"I have been told that I must carry on in the States of Alderney and the States of Guernsey. I will do that and I'm very pleased to do that."


---
Next story: Two-minute meeting
Previous story: Car thief accused in court
Current issue 1279 - Sep 22nd 2023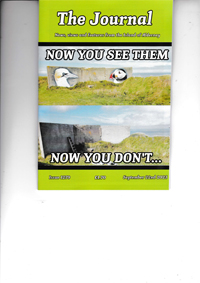 Back Issues
Back issues
of the Journal are now available

The Guernsey Bereavement Service has made three visits to Alderney over the past few months and would like to continue to help you. We are visiting the island again on Tuesday, 12th November 2013 and would invite anyone who feels they would like Bereavement Counselling to telephone the Bereavement Service Office on 257778 to make a time to meet one of our counsellors.

What's on in Alderney

, ,

, ,
Journal all over the World

Great Wall photo wins picture prize
Things to do in Alderney
Contact details of Alderney Clubs and Societies