Car thief accused in court
Posted Fri 10th June 2011 at 13:58
A teenager from Alderney was remanded in custody after allegedly being involved in a 70mph car chase with police.

Apprentice mechanic Daniel John Robinson, 18, appeared at the Court of Alderney this morning charged with 11 offences related to the theft of two cars on Tuesday night. He didn't enter a plea to any of the charges but did apologise.

He said: "I am sorry for what I've done and I apologise to everyone that's affected."

An application for bail was made, but Jurats said Mr Robinson, who was recently disqualified from driving by Alderney's Juvenile Court, may commit further offences.

Mr Robinson, of Petit Val, was charged with two counts of taking a vehicle without consent, two counts of driving while disqualified and two counts of driving without insurance. He was also charged for driving without due care and attention, failing to stop after an accident, failing to report an accident, failing to stop for the police and driving at a speed dangerous to the public.

Alderney's speed limit is 35mph.

The court heard Mr Robinson allegedly took a Saab and drove it until it broke down. He then took a Citroen and drove it erratically and at excessive speed, according to Advocate Rory Calderwood, for the prosecution. The Citroen was then crashed into a Nissan truck, causing damage to both vehicles.

Advocate Calderwood added: "The defendant was spotted by Sergeant Colin Solway at five past midnight. He noticed damage to the car and signalled for it to stop using blue lights. The vehicle made no attempt to stop and Sergeant Solway accelerated until alongside but the defendant accelerated away. He went towards the Scramble Course, Whitegates and along Longis Road in excess of 70mph, estimated by Sergeant Solway. He lost sight of the vehicle and it was found abandoned at Rue de Beaumont at 12.48."

The court heard Mr Robinson was arrested and admitted to police he had taken the vehicles after drinking alcohol with friends. It was Mr Robinson's intention to return the Saab but it broke down.

Advocate Calderwood added: "The defendant admitted driving the Citroen and crashing it into a parked truck. He accepts he saw blue lights and that he failed to stop."

Advocate Calderwood applied for Mr Robinson to be remanded in custody.

He said: "Even strict bail conditions would not alleviate fears that he would consume alcohol and commit further offences. He was told he must not drive a vehicle for 18 months and he disobeyed the court."

In a letter read out to the court, Advocate Rachel Eeles, for Mr Robinson, said a residence condition and curfew could be applied.

She said: "It is accepted that the offences are serious and there is a high likelihood of youth detention.

"He has clearly admitted all the offences, with exception to dangerous driving.

"The defendant's father is adamant his son needs psychiatric help and wants to take him to a GP. I ask you to give due consideration to granting bail."

Jurat Neil Hunter, chairman of the bench, said: "The Jurats are not granting bail because they have substantial grounds to believe you may commit an offence while you are on bail. The Jurats have also considered the seriousness of the offences and the strength of the evidence against you."

The matter was adjourned until July 1. Mr Robinson will be remanded in custody in Guernsey.


---
Next story: Trought is elected President
Previous story: Two more cars stolen
Current issue 1284 - Dec 1st 2023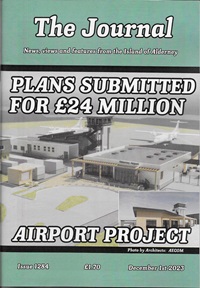 PLANS SUBMITTED FOR £24 MILLION AIRPORT PROJECT
Back Issues
Back issues
of the Journal are now available

The Guernsey Bereavement Service has made three visits to Alderney over the past few months and would like to continue to help you. We are visiting the island again on Tuesday, 12th November 2013 and would invite anyone who feels they would like Bereavement Counselling to telephone the Bereavement Service Office on 257778 to make a time to meet one of our counsellors.

What's on in Alderney

, ,

, ,
Journal all over the World

Great Wall photo wins picture prize
Things to do in Alderney
Contact details of Alderney Clubs and Societies