Allen: Willmott has 'lost the plot'
Posted Tue 26th October 2010 at 13:18
States member Peter Allen has accused colleague Richard Willmott of "losing the plot" after being dismissed from a committee meeting.

Mr Allen was given his marching orders just minutes into Monday's Policy and Finance debate at the Island Hall.

Chairman Mr Willmott, who is stepping down from the States in December, ejected Mr Allen while he spoke about a confidential item.

Mr Allen said: "As the discussion was going on I was constantly being interrupted. It wasn't a long sentence that I was trying to make but I wasn't allowed to finish.

"Mr Willmott got very angry, wouldn't let me speak, and after banging his hand on the table and shouting at me, asked me to leave the room. At first I refused but eventually I did.

"It seems Mr Willmott definitely lost the plot this morning. Maybe the pressure's getting to him. He is coming to the end of his term and maybe I should be more forgiving, but it isn't right. I was elected by 520 people, by far the highest majority at the last election, and my views deserve to be heard. I was elected to represent the people and my views do count for something. I'm not there to sit and be quiet."

Mr Allen believes he was excluded as the issue being discussed involved a matter Mr Willmott is closely associated with.

"Maybe this heightened the tension in the room on the subject, as I feel there was perhaps a conflict of interest."

Mr Allen, who was dismissed from a States meeting by President Sir Norman Browse in March, said he would continue to work hard.

"The last time I was dismissed I was vindicated by the rules being changed about replying to reports in States meetings.

"I'm going to keep fighting. They can suspend me if they want but I'm still a States member. I will continue to do the work I do. I presume it'll be up to the President to decide what happens. I look forward to hearing from him."

Mr Allen went on to say Mr Willmott has done a good job for the island but that it was time for him to go.

"Mr Willmott has been a very good representative for Alderney in Guernsey and nothing will ever change my views on that. However it does seem I'm butting up against him more and more, so perhaps it is time for him to go."

Mr Willmott was unavailable for comment on Monday.

The States has yet to confirm whether Mr Allen will be suspended or not.
---
Next story: Matt Birmingham tops States poll
Previous story: States meeting postponed
Current issue 1283 - Nov 17th 2023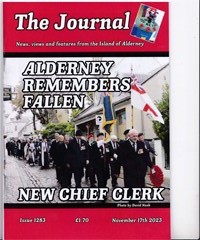 ALDERNEY REMEMBERS FALLEN
NEW CHIEF CLERK
Back Issues
Back issues
of the Journal are now available

The Guernsey Bereavement Service has made three visits to Alderney over the past few months and would like to continue to help you. We are visiting the island again on Tuesday, 12th November 2013 and would invite anyone who feels they would like Bereavement Counselling to telephone the Bereavement Service Office on 257778 to make a time to meet one of our counsellors.

What's on in Alderney

, ,

, ,
Journal all over the World

Great Wall photo wins picture prize
Things to do in Alderney
Contact details of Alderney Clubs and Societies