Matt Birmingham tops States poll
Posted Thu 2nd December 2010 at 15:07
Alderney's States will welcome three new members in January.

Five seats were up for grabs in Saturday's poll, which was topped by newcomer Matthew Birmingham. Paul Arditti and Raymond Berry were also elected for the first time, while sitting members Tony Llewellyn and Ian Tugby retained their seats.

Turnout topped 70 per cent, despite four inches of snow covering the island on Saturday morning. It took a trio of Jurats three hours to count and verify the ballot papers, before States chief executive Roy Burke announced the result shortly before 10pm.

Delighted Mr Birmingham, who finished more than 150 votes in front of his nearest rival, said he would work to get Alderney's economy back on track.

"I'm delighted to have topped the poll. I've been quietly confident all the way through that I'd get elected, but to top the poll is a good feeling. I'm humbled by the fact I've been shown so much trust by the people of Alderney.

"For me the immediate priority is the state of the economy. We've got a high street that's really in crisis and there are many people on part-time work. It's important we get the economy moving and that for me was the reason I stood. In my daily life I come across many people that are really struggling."

Lawyer Mr Arditti said he would use his legal expertise to help the States.

He said: "I've had a rather good vote and I'm very grateful to everybody who voted. I think it's amazing we had a 70 per cent turnout with those weather conditions.

"I'm looking forward to studying the papers and seeing how we can best solve the problems. I wasn't going to stand until the very last moment but it's my feeling that a lawyer might be of use in the States."

Born-and-bred Alderney man Ray Berry said he would work to cut unemployment.

"My priority is to find some means of bringing employment back to the island - there are too many people unemployed at the moment. A lot of people are struggling at this time."

Mr Berry said he couldn't wait to get started.

"I'm looking forward to doing the best I can. I've had a difficult time in my life and I've had some good opportunities given to me by various people - I'd like to repay that now in the next four years and do the best I can for all the people of Alderney, not just the people that voted for me. I want to encourage more people to come and live here, as this is a wonderful place to be. However, it could be better and we need to work towards that."

The three new members replace Liz Bennett, Colin Williams and Richard Willmott. Ms Bennett quit the States in July, while Mr Williams and Mr Willmott opted not to seek re-election. The five members' terms of office will begin in January. They will be joined on the States by Peter Allen, John Beaman, Boyd Kelly, Geoffrey Sargent and Bill Walden, who were all elected in 2008.


---
Next story: Four stand for Guernsey roles
Previous story: Allen: Willmott has 'lost the plot'
Current issue 1229 - Sep 17th 2021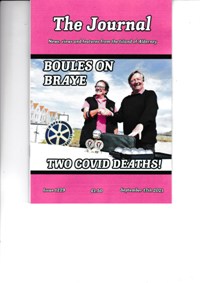 Boules on Braye
Two Covid Deaths!
Back Issues
Back issues
of the Journal are now available

The Guernsey Bereavement Service has made three visits to Alderney over the past few months and would like to continue to help you. We are visiting the island again on Tuesday, 12th November 2013 and would invite anyone who feels they would like Bereavement Counselling to telephone the Bereavement Service Office on 257778 to make a time to meet one of our counsellors.

What's on in Alderney

, ,

, ,
Journal all over the World

Great Wall photo wins picture prize
Things to do in Alderney
Contact details of Alderney Clubs and Societies