Police receive noise complaints
Posted Mon 2nd August 2010 at 12:40
Alderney Week revellers have been asked to act responsibly.

The island's acting sergeant, Colin Solway, said noise complaints had been received from residents who live near Corporation Quarry.

"We've had a few complaints about noise, singing, shouting and swearing. I'm asking people to refrain from making lots of noise on the way to the quarry. You can make as much noise at the quarry as you like - just consider those living on the route.

"I would like to ask that people take a little bit of responsibility and respect their neighbours."

Sgt Solway said Saturday's quarry party passed without any incident being reported to police.
---
Next story: Two teenagers guilty of stealing booze
Previous story: Green light for red Hummer
Current issue 1283 - Nov 17th 2023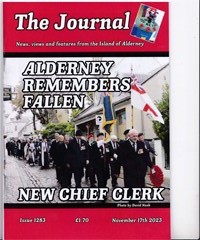 ALDERNEY REMEMBERS FALLEN
NEW CHIEF CLERK
Back Issues
Back issues
of the Journal are now available

The Guernsey Bereavement Service has made three visits to Alderney over the past few months and would like to continue to help you. We are visiting the island again on Tuesday, 12th November 2013 and would invite anyone who feels they would like Bereavement Counselling to telephone the Bereavement Service Office on 257778 to make a time to meet one of our counsellors.

What's on in Alderney

, ,

, ,
Journal all over the World

Great Wall photo wins picture prize
Things to do in Alderney
Contact details of Alderney Clubs and Societies