Green light for red Hummer
Posted Fri 30th July 2010 at 12:28

A Hummer has been imported to Alderney.

Builder Mark Maurice took delivery of a red Hummer SUT on Thursday. The vehicle is five metres' long and has a six-litre engine.

The importation appears to mark a major U-turn in States policy after Mr Maurice failed to gain approval for an almost identical vehicle last year.

Mr Maurice's original application, for a white Hummer H2 Lux, was vetoed by former States chief executive David Jeremiah, despite the fact the car's specifications met various guidelines.

Mr Maurice challenged the decision through the courts and spent £130,000 in the process. After his application for a judicial review failed last week, Mr Maurice said he would appeal and seek to import a different Hummer.

The only difference in the second application is that Mr Maurice applied to use the vehicle for commercial, rather than personal, reasons.

Mr Maurice has been advised not to speak to the media until his legal dispute is over. He did, however, pose for pictures at Braye Harbour.

When asked why the second Hummer application had been successful, States chief executive Roy Burke said: "They are different applications - for different vehicle types. The rules governing the importation of varying categories of vehicle are different. Clearly it is not a matter of the colour."
---
Next story: Police receive noise complaints
Previous story: Red light for Hummer
Current issue 1284 - Dec 1st 2023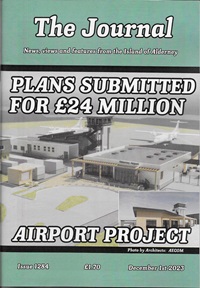 PLANS SUBMITTED FOR £24 MILLION AIRPORT PROJECT
Back Issues
Back issues
of the Journal are now available

The Guernsey Bereavement Service has made three visits to Alderney over the past few months and would like to continue to help you. We are visiting the island again on Tuesday, 12th November 2013 and would invite anyone who feels they would like Bereavement Counselling to telephone the Bereavement Service Office on 257778 to make a time to meet one of our counsellors.

What's on in Alderney

, ,

, ,
Journal all over the World

Great Wall photo wins picture prize
Things to do in Alderney
Contact details of Alderney Clubs and Societies