Tourgis plans not passed yet
Posted Fri 11th June 2010 at 14:15
Dutch developers Verweij en Partners (VP) have not yet been given planning permission to turn Fort Tourgis into a hotel and conference centre.

A report in today's Alderney Press said VP's plans had been approved by the States. However, The Journal can confirm this is incorrect.

Speaking on Thursday, VP architect Marianne Mollema said planning permission had not yet been granted. However, she did say she was "confident" her company's ambitious scheme would be given the green light in the coming days.

Ms Mollema said: "I know it [the planning application] was talked about yesterday but I have not heard any results yet.

"I don't expect any problems though. I am confident everything will be OK."

Ms Mollema said she may return to the island next month with VP managing director Frans Verweij.

"I'm not sure when we will come back. We might come in July, or maybe after the holidays. Businesses in Holland close during August, so I don't know if we'll come before August or after - it will depend on other projects."

Speaking today, States chief executive Roy Burke said the planning process had not yet been completed and that VP had not been granted planning permission.

The Journal understands that members of the Building and Development Control Committee want to ask VP several questions before building permission is given.
---
Next story: States slated at people's meeting
Previous story: Date set for fisheries meeting
Current issue 1283 - Nov 17th 2023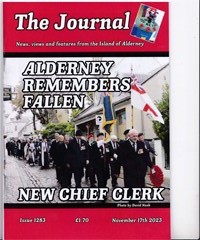 ALDERNEY REMEMBERS FALLEN
NEW CHIEF CLERK
Back Issues
Back issues
of the Journal are now available

The Guernsey Bereavement Service has made three visits to Alderney over the past few months and would like to continue to help you. We are visiting the island again on Tuesday, 12th November 2013 and would invite anyone who feels they would like Bereavement Counselling to telephone the Bereavement Service Office on 257778 to make a time to meet one of our counsellors.

What's on in Alderney

, ,

, ,
Journal all over the World

Great Wall photo wins picture prize
Things to do in Alderney
Contact details of Alderney Clubs and Societies