States slated at people's meeting
Posted Thu 17th June 2010 at 11:57
Several islanders rounded on the States at last night's people's meeting.

A proposal to increase planning fees was particularly unpopular.

Former States member Francis Simonet said: "The proposed fees are just a copy of those in Guernsey, with the only significant difference being that some of our charges are higher than theirs. How on earth do you justify that when the building here tends to be modest?

"Alderney cannot afford these fees. In the last few years our States has made us pay dearly and I believe it's to cover bad management of capital projects. It's time States members took an audit of themselves. This island is suffering, and suffering badly."

There was also uproar over proposals to increase water rates by ten per cent for the fifth successive year.

Another ex-States member, Louis Jean, said: "This is quite serious for Alderney. People are struggling to pay their utility bills. I don't see wages going up ten per cent - these are hard times."

Mr Jean said the States should ask Guernsey to cover the rates rise, as the capital allocation of £200,000 has been frozen for more than a decade.

Tony Llewellyn, convener at the meeting, said Guernsey's refusal to increase Alderney's capital budget was "disgraceful".

States President Sir Norman Browse was praised at the meeting for presenting a green paper on planning obligations and community gain. Writing in the Billet D'Etat, Sir Norman described planning gain as "immoral".

Mr Simonet agreed with the President.

He said: "I congratulate the President for bringing this forward. The BDCC [Building and Development Control Committee] has no authority to impose a tax or penalty on any developer.

"I know people who were going to develop, and they put the plans in, before getting a call from a civil servant and being asked how much they were going to give the States. It is outrageous and has no part in our community. The way this building committee has acted has been appalling and disgraceful. Our government is supposed to set standards - it should hang its head in shame."
---
Next story: Taxi accident injures 90-year-old woman
Previous story: Tourgis plans not passed yet
Current issue 1279 - Sep 22nd 2023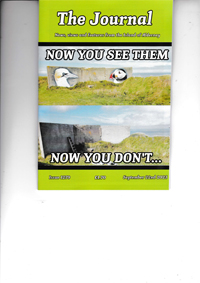 Back Issues
Back issues
of the Journal are now available

The Guernsey Bereavement Service has made three visits to Alderney over the past few months and would like to continue to help you. We are visiting the island again on Tuesday, 12th November 2013 and would invite anyone who feels they would like Bereavement Counselling to telephone the Bereavement Service Office on 257778 to make a time to meet one of our counsellors.

What's on in Alderney

, ,

, ,
Journal all over the World

Great Wall photo wins picture prize
Things to do in Alderney
Contact details of Alderney Clubs and Societies