Police make burglary arrests
Posted Wed 9th June 2010 at 10:10
A number of arrests have been made in connection with two burglaries which took place last month.

Nobody has yet been charged in relation to the incidents, which saw 40 cans of beer stolen from Alderney Football Club and almost £1,000 in cash, as well as 500 cigarettes, taken from The Moorings.

Police are intending to make more arrests and are still keen for people with information about the crimes to come forward.

PC Andy Du Four, the officer leading the investigations, said: "In relation to the burglaries previously reported I can confirm that several arrests have been made and we plan to make further arrests in the coming days.

"However, due to it being an on-going investigation, I cannot comment any further at this time. I would like to thank the public for the valuable assistance they have provided to date and urge anyone else who may hold information to come forward."

The first burglary, at the football club, took place between May 27 and 29. The second occurred on May 30. Speaking last week, a police spokesman said the two incidents could be related.

Any witnesses or those with information about either burglary should contact Alderney Police on 824999 or call Crimestoppers, in confidence, on 0800 555111.
---
Next story: Date set for fisheries meeting
Previous story: School pool vandalised again
Current issue 1284 - Dec 1st 2023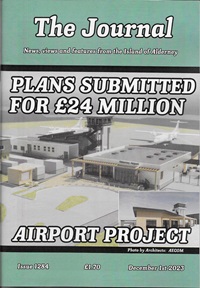 PLANS SUBMITTED FOR £24 MILLION AIRPORT PROJECT
Back Issues
Back issues
of the Journal are now available

The Guernsey Bereavement Service has made three visits to Alderney over the past few months and would like to continue to help you. We are visiting the island again on Tuesday, 12th November 2013 and would invite anyone who feels they would like Bereavement Counselling to telephone the Bereavement Service Office on 257778 to make a time to meet one of our counsellors.

What's on in Alderney

, ,

, ,
Journal all over the World

Great Wall photo wins picture prize
Things to do in Alderney
Contact details of Alderney Clubs and Societies