School pool vandalised again
Posted Mon 7th June 2010 at 14:25
Vandals have damaged the swimming pool cover at St Anne's School.

Those involved are thought to have used a wooden stake from the sports field to cause a V-shaped tear in the cover, which protects the outdoor facility.

The incident, which could cost the school £2,000, happened between 5pm on Friday (June 5) and 8.45am the following morning.

Headteacher Mike Gaunt said: "The cover is not water or air tight anymore. The stake was either thrown into the pool area, over the wall, or somebody came in and deliberately drove it into the cover.

"A new cover costs £2,000 but we're hoping we can just mend the tear or cover it up. At the very least we will not have to drain the pool, which is very costly and time-consuming."

Mr Gaunt went on to describe the incident as mindless and irresponsible.

"It is mindless. I know people will indulge in vandalism but it just disrupts children being able to swim. It's irresponsible and people may do it as a joke but it's no joke when it stops the children from swimming and costs the school money."

It is the second time in 13 months the school pool has been vandalised. A glass bottle was thrown into the area in May last year and meant the pool had to be drained.

Any witnesses or those with information about the latest incident should contact Alderney Police on 824999 or call Crimestoppers, in confidence, on 0800 555111.
---
Next story: Police make burglary arrests
Previous story: Sergeant could be back this month
Current issue 1283 - Nov 17th 2023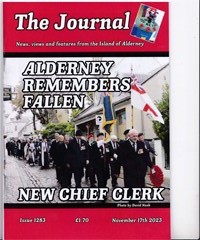 ALDERNEY REMEMBERS FALLEN
NEW CHIEF CLERK
Back Issues
Back issues
of the Journal are now available

The Guernsey Bereavement Service has made three visits to Alderney over the past few months and would like to continue to help you. We are visiting the island again on Tuesday, 12th November 2013 and would invite anyone who feels they would like Bereavement Counselling to telephone the Bereavement Service Office on 257778 to make a time to meet one of our counsellors.

What's on in Alderney

, ,

, ,
Journal all over the World

Great Wall photo wins picture prize
Things to do in Alderney
Contact details of Alderney Clubs and Societies