Sergeant could be back this month
Posted Fri 4th June 2010 at 10:11
Alderney's suspended police sergeant could return to work in less than four weeks.

Sergeant James Priest was suspended in April following a complaint by a member of the public and is being investigated by the Police Professional Standards Department for a non-criminal matter.

The investigation into Sgt Priest's conduct has been ongoing since last October. However, The Journal understands his future will be decided at a private hearing on June 28. Provided Sgt Priest is cleared at the hearing, he could return to work immediately.

Since news of the suspension was revealed, a Guernsey Police officer has accused the island force of conducting a witch-hunt in order to remove Sgt Priest. According to the source, Sgt Priest has become dismayed with Guernsey Police's unprofessional attitude and dated practices. His relationship with Inspector Jane Henaghan, who is responsible for policing in Alderney, is also understood to have broken down.

Speaking last month, Sgt Priest's partner, Sara Hindle, said he is in good spirits and greatly encouraged by the support of islanders.

Detective Constable Hindle, who works for Greater Manchester Police, said: "James would like to thank everybody for their overwhelming support. The suspension has devastated him but he has nothing to fear and the support of everyone has been a real comfort.

"James is hoping to be back leading Alderney Police as soon as possible."

In the last few weeks members of Alderney's Police/Public Consultative Group have urged Guernsey Police to reinstate Sgt Priest. States member Boyd Kelly has also spoken of his disappointment in the disruption of policing in the island, as Alderney has had four sergeants in just ten years.

At last month's Consultative Group meeting, member Ian Legg said: "The general consensus is that we want him back at work quickly."

Also speaking at the meeting, Chief Inspector Ruari Hardy said: 'The issue of Sgt Priest is something we know everyone has a view on. We also know it has caused concern in the community.

"The matter is ongoing and is being dealt with by the Professional Standards Department. It's not a matter that I am directly involved in. Such a decision [to suspend Sgt Priest] would not have been made without thought being given to it."

A spokesman for Guernsey Police said: "Police disciplinary procedures are internal matters. Also, having regard for those involved, it would be inappropriate to formally comment to the media about the stages of the process."
---
Next story: School pool vandalised again
Previous story: Alderney finally gets ferry service
Current issue 1279 - Sep 22nd 2023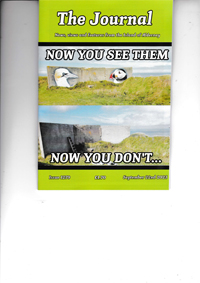 Back Issues
Back issues
of the Journal are now available

The Guernsey Bereavement Service has made three visits to Alderney over the past few months and would like to continue to help you. We are visiting the island again on Tuesday, 12th November 2013 and would invite anyone who feels they would like Bereavement Counselling to telephone the Bereavement Service Office on 257778 to make a time to meet one of our counsellors.

What's on in Alderney

, ,

, ,
Journal all over the World

Great Wall photo wins picture prize
Things to do in Alderney
Contact details of Alderney Clubs and Societies