Police swoop for missing firearms
Posted Wed 17th February 2010 at 15:29
A firearms raid has been carried out in Alderney after a number of seized weapons were reported missing.

Three properties were searched by police last week and one man was arrested in connection with the operation. The man has since been released.

The raids were organised after the States - which deals with dangerous weapons seizures - was alerted to the fact that various articles had gone AWOL from the Civil Defence Bunker off Longis Road.

Tens of firearms were seized during the searches, which involved five Guernsey officers and three from Alderney. A number of the articles collected have been sent to Guernsey for analysis.

A Guernsey Police spokesman said investigations into the reported theft of firearms were ongoing. He also said the missing weapons had been recovered.

The spokesman added: 'Responding to intelligence received, five officers from Guernsey travelled to Alderney last week on scheduled flights, in support of local officers conducting searches at three locations in the island. One adult man was arrested and released pending further enquiries.

'Nobody has yet been charged with any offences, however the matter is still the subject of an ongoing police investigation and therefore further details cannot be released at this time.'

A spokesman for the States declined to comment and said the matter was being dealt with by police.

Only last month members of the Policy and Finance Committee decided the States should continue dealing with weapons seizures, rather than pass responsibility to the police.
---
Next story: Motorists urged to avoid Braye Road
Previous story: Hotel guests evacuated after fire
Current issue 1284 - Dec 1st 2023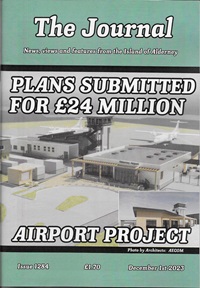 PLANS SUBMITTED FOR £24 MILLION AIRPORT PROJECT
Back Issues
Back issues
of the Journal are now available

The Guernsey Bereavement Service has made three visits to Alderney over the past few months and would like to continue to help you. We are visiting the island again on Tuesday, 12th November 2013 and would invite anyone who feels they would like Bereavement Counselling to telephone the Bereavement Service Office on 257778 to make a time to meet one of our counsellors.

What's on in Alderney

, ,

, ,
Journal all over the World

Great Wall photo wins picture prize
Things to do in Alderney
Contact details of Alderney Clubs and Societies