Hotel guests evacuated after fire
Posted Tue 16th February 2010 at 11:01
A night porter is being hailed a hero after putting out a fire and evacuating guests from the Braye Beach Hotel.

The fire started in the bar area of the Divers' Inn shortly after 4am and spread to the hotel, which is part of the same building. It took the island's fire crew an hour to deal with the incident.

Eleven guests and staff had to be evacuated from their top-floor rooms and spent half an hour standing in Braye Street while the building was made safe. No one was injured during the incident.

Scott Chance, the hotel's general manager, said: "The fire started in the Divers' bar and came through a socket into the hotel. We think it started in a waste paper bin.

"It set a few boxes alight in the hotel and this caused the fire alarm to go off.

"Our quick thinking night porter, Donald Vidal, saved the day. He contacted the fire brigade, evacuated the hotel and located the fire before putting it out."

Mr Chance said the guests were given a hot drink while fire fighters dealt with the incident.

"Everyone was taken outside and had a cup of coffee. They were very understanding â?? they would rather be downstairs than getting fried in their bedrooms."

Mr Chance said the Divers, which suffered minor smoke damage, would open for lunch as normal today.
---
Next story: Police swoop for missing firearms
Previous story: John Richards quits States role
Current issue 1283 - Nov 17th 2023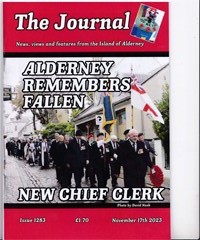 ALDERNEY REMEMBERS FALLEN
NEW CHIEF CLERK
Back Issues
Back issues
of the Journal are now available

The Guernsey Bereavement Service has made three visits to Alderney over the past few months and would like to continue to help you. We are visiting the island again on Tuesday, 12th November 2013 and would invite anyone who feels they would like Bereavement Counselling to telephone the Bereavement Service Office on 257778 to make a time to meet one of our counsellors.

What's on in Alderney

, ,

, ,
Journal all over the World

Great Wall photo wins picture prize
Things to do in Alderney
Contact details of Alderney Clubs and Societies