Suspicious package contained toilet paper
Posted Fri 29th January 2010 at 09:25
A suspicious package was delivered to Alderney's States office on Thursday.

The package, which was addressed to a States member and contained a piece of toilet paper, was handed to Alderney Police as a precaution.

Alderney's chief executive, David Jeremiah, said: "From the way the package was addressed it looked as if something offensive may have been inside. This is the reason it was passed on to Alderney Police unopened."

A police spokesman said enquiries into where the package originated from are ongoing.

Anyone with information should contact Alderney Police on 824999.
---
Next story: Missing vet's body is found
Previous story: Second driving ban for young plumber
Current issue 1283 - Nov 17th 2023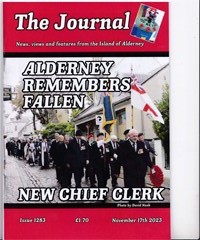 ALDERNEY REMEMBERS FALLEN
NEW CHIEF CLERK
Back Issues
Back issues
of the Journal are now available

The Guernsey Bereavement Service has made three visits to Alderney over the past few months and would like to continue to help you. We are visiting the island again on Tuesday, 12th November 2013 and would invite anyone who feels they would like Bereavement Counselling to telephone the Bereavement Service Office on 257778 to make a time to meet one of our counsellors.

What's on in Alderney

, ,

, ,
Journal all over the World

Great Wall photo wins picture prize
Things to do in Alderney
Contact details of Alderney Clubs and Societies