Second driving ban for young plumber
Posted Thu 28th January 2010 at 14:47

James Lowe has been given a second driving ban - just four months after becoming the first islander to be disqualified for speeding.

Trainee plumber Mr Lowe, 20, of Simerock, Les Venelles Des Gaudions, was found guilty of driving without due care and attention in the grounds of St Anne's School.

Jurats at the Court of Alderney rejected Mr Lowe's claim that his foot had slipped on to the accelerator and described the manoeuvre as foolish.

The incident took place on July 11 last year - shortly after Mr Lowe had finished a game of football on the school field involving PC Andy Du Four and SC Paul Maurice, of Alderney Police.

The court heard Mr Lowe drove a Peugeot 306 towards the school's exit before reversing back towards the field in order to retrieve his jumper, which he had forgotten to pick up.

PC Du Four and SC Maurice both told the court their attention had been drawn to Mr Lowe's vehicle due to the speed it was travelling and the fact it skidded to a halt.

PC Du Four accused Mr Lowe of showing off, while SC Maurice said Mr Lowe had attempted to antagonise the public and police with his driving in the past.

Witness Mike Gaunt, head teacher at St Anne's, said he heard the vehicle while in his office, as he was preparing for the school fair, which was due to be held the next day.

Another witness, James Varley, who also took part in the football match, said Mr Lowe had screeched and swerved his way past the school's entrance. Mr Varley said someone could have been seriously injured by Mr Lowe's actions.

Mr Lowe, who represented himself in court, said his foot had slipped from the brake to accelerator while he reversed. He denied driving without due care and attention and said only an idiot would attempt such a manoeuvre while the police were just yards away.

Advocate Chris Dunford, prosecuting, accused Mr Lowe of lying in order to prevent being convicted. Mr Lowe denied the accusation.

Summing up, Mr Lowe described the incident as a complete accident.

Sentencing, Jurat Colin Partridge said Mr Lowe's previous convictions of speeding, driving without due care and attention and driving a dangerous vehicle, were all taken into account by the court.

Jurat Partridge described the incident as "a foolish act and careless".

After fining Mr Lowe £300, Jurats enforced a six-month ban, which will run from today (January 28). Mr Lowe was previously banned from driving for six months in October after pleading guilty to driving 65mph in a 35mph zone.
Related story: 65mph teen banned for 6 months
---
Next story: Suspicious package contained toilet paper
Previous story: Willmott and Williams to quit States
Current issue 1283 - Nov 17th 2023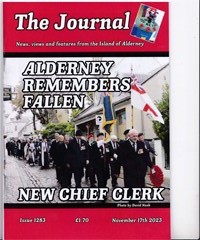 ALDERNEY REMEMBERS FALLEN
NEW CHIEF CLERK
Back Issues
Back issues
of the Journal are now available

The Guernsey Bereavement Service has made three visits to Alderney over the past few months and would like to continue to help you. We are visiting the island again on Tuesday, 12th November 2013 and would invite anyone who feels they would like Bereavement Counselling to telephone the Bereavement Service Office on 257778 to make a time to meet one of our counsellors.

What's on in Alderney

, ,

, ,
Journal all over the World

Great Wall photo wins picture prize
Things to do in Alderney
Contact details of Alderney Clubs and Societies