65mph teen banned for 6 months
Posted Thu 1st October 2009 at 17:34

A teenager has become the first person to be given a driving ban for speeding in Alderney.

Plumber James Lloyd Lowe was clocked doing 65mph - almost twice the speed limit - in September.

He was banned from driving in the Bailiwick for six months and fined £400 at the Court of Alderney on Thursday morning.

Mr Lowe, of Simerock, Les Vennelles Des Gaudions, was caught during a covert speed check on September 21.

Prosecuting, Chief Inspector Philip Falla said: "At 8.55pm a police sergeant conducted a covert speed check in Le Banquage.

"His attention was drawn to a fast moving vehicle heading from Braye. There were no other vehicles travelling along this road. He used a laser speed device and aimed it at the vehicle. The following speeds were recorded; 65mph, 63mph and 60mph; over a distance of just over 710ft.

"The officer noted it was a Peugeot, registration number AY 1238. He was unable to stop the vehicle at the time."

The court heard that Mr Lowe, who has a previous conviction for driving without due care and attention, was cautioned at his home address shortly after the incident. He was then questioned.

Chief Inspector Falla said: "The defendant was asked whether he agreed with the speeds recorded. He answered: 'I don't remember'.

"He was then asked whether he could estimate the speed he was driving. He said: 'no'."

Advocate Sara Mallett, mitigating, appealed for leniency and said her client wished to "apologise profusely" for the "aberration". She urged Jurats not to take Mr Lowe's previous conviction into account and said any ban would seriously affect his employment.

Sentencing, Jurat Colin Partridge said: "The previous conviction has been taken into account as we believe it to be relevant.

"You were driving at nearly twice the speed limit in a public area after dark. You appear to be unaware of your excessive speed. You do not have to look at the speedometer to know how fast you are going."

Mr Lowe, who was forced to surrender his driving licence at the end of the hearing, declined to comment on the verdict outside court.
Related story: Second driving ban for young plumber
---
Next story: Locals toast the lifeboat
Previous story: Guernsey firm awarded Connaught contract
Current issue 1270 - May 19th 2023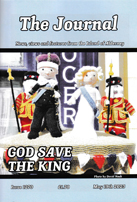 Back Issues
Back issues
of the Journal are now available

The Guernsey Bereavement Service has made three visits to Alderney over the past few months and would like to continue to help you. We are visiting the island again on Tuesday, 12th November 2013 and would invite anyone who feels they would like Bereavement Counselling to telephone the Bereavement Service Office on 257778 to make a time to meet one of our counsellors.

What's on in Alderney

, ,

, ,
Journal all over the World

Great Wall photo wins picture prize
Things to do in Alderney
Contact details of Alderney Clubs and Societies