Guernsey firm awarded Connaught contract
Posted Fri 25th September 2009 at 13:10
Awarding a major building contract to a Guernsey firm was described as 'a scandal' at yesterday's Alderney States meeting.

Peter Allen said allowing JW Rihoy to build the New Connaught Care Home proved the States is "naive", "gullible" and "out of touch".

"I am actually shaking because I am so angry about this," said Mr Allen.

"It is a scandal when the rest of Europe is pouring money into their own economies to help their own people that we are helping to stimulate Guernsey's economy and not our own.

The States is out of touch and naive. I cannot believe the gullibility."

John Beaman claimed that awarding the Connaught contract to the lowest local tender, made by JFW Main, would boost Alderney's economy to the tune of £3.5m over five years. He also said employing a local firm would secure 20 jobs and send a message to islanders that the States is doing all it can to support them.

Colin Williams said the decision to choose Rihoy's - who submitted a tender of £2.11m, as opposed to Main's £2.29m - was simply good government. He went on to say that a large percentage of the contract would be spent off-island anyway and that whoever won the business was obliged to use local labour wherever possible.

Geoffrey Sargent said that local builders needed to ask themselves why they were not in a position to offer the lowest tender.

Richard Willmott and Bill Walden both said the States would have preferred to choose a local contractor.

The decision to award Rihoy's the contract was passed by six votes to two. Ian Tugby abstained, while Tony Llewellyn was absent.

The States also agreed to sell two areas of land at the meeting, which was attended by Lieutenant Governor Sir Fabian Malbon, and appoint John Antill as executive chairman of the island's tidal regulatory body, the Alderney Commission for Renewable Energy.
---
Next story: 65mph teen banned for 6 months
Previous story: Victor Hugo hits the rocks
Current issue 1283 - Nov 17th 2023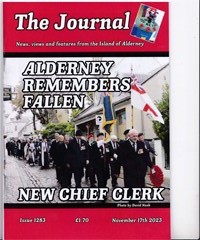 ALDERNEY REMEMBERS FALLEN
NEW CHIEF CLERK
Back Issues
Back issues
of the Journal are now available

The Guernsey Bereavement Service has made three visits to Alderney over the past few months and would like to continue to help you. We are visiting the island again on Tuesday, 12th November 2013 and would invite anyone who feels they would like Bereavement Counselling to telephone the Bereavement Service Office on 257778 to make a time to meet one of our counsellors.

What's on in Alderney

, ,

, ,
Journal all over the World

Great Wall photo wins picture prize
Things to do in Alderney
Contact details of Alderney Clubs and Societies