Victor Hugo hits the rocks
Posted Mon 14th September 2009 at 12:19
Fifty-nine ferry passengers were left stranded in Alderney last night after the Victor Hugo hit the rocks in Braye Harbour.

It took three vessels more than 60 minutes to manoeuvre the ferry safely into position after it had drifted on to rocks shortly after setting sail for Guernsey.

The Manche Iles boat was on the final leg of its Guernsey to Lessay Fair day trip and had started leaving the harbour shortly before 8pm, just 20 minutes after dropping off 84 Alderney passengers.

Engine and steering problems, as well as tricky sailing conditions, are thought to have caused the ferry to hit rocks in the Blacksmith Shop area of the harbour.

Passenger Irene Hicks, from St Peter Port, described the incident.

'We were just bobbing around the harbour, bouncing off the rocks and everything.'

Mrs Hicks, who was travelling with friends Odette Carey and Christina Browning, and family Michael Hicks senior, Michael Hicks junior, Thomas Hicks, Michelle Hicks and Shanaya Hicks, said the ferry should have been stood down in Alderney.

'We were told there were steering problems in France and had already been delayed getting to Alderney.

'They should have just dropped everybody off in Alderney before trying to get out as there were clearly things wrong with the boat.'

Another passenger, Paul Hughes, also from St Peter Port, said he thought something had got caught in the engine between France and Alderney.

'We were coming out of France when it sounded as if the engine had got something caught in it. We slowed down after that and you could hear the engine wasn't right.'

Plasterer Mr Hughes, who had enjoyed a weekend break in France with his wife Helen, was philosophical about being marooned in Alderney.

'We can't do much about the situation â?? it's just one of those things. I'm self-employed so it won't affect me too much but my wife will have to take tomorrow off work.'

Eyewitness Ronnie Cairnduff said there was a huge crunching sound when the ferry hit the rocks.

'It cast off but soon after it was drifting. Then there was a huge crunch when it hit the rocks. A fishing vessel got a line to it and then the pilot and lifeboat did. It took them about 45 minutes to get it off the rocks before they pushed it to the side of the harbour.'

Deputy Harbourmaster Mark Gaudion said: 'The Victor Hugo came in from Dielette at 19.38. It disembarked its passengers and then left the berth to sail for Guernsey at 19.59. At 20.03 she called to say she was drifting towards the Blacksmith Shop area of rocks and required assistance. Local fishing vessel KTC assisted her by taking a tow to try and keep her clear of the rocks.

'The lifeboat was launched at 20.13. At 20.25 the lifeboat and Alderney pilot boat, as well as KTC, had the Victor Hugo in tow. She was towed clear of the rocks at 21.07 and manoeuvred into position at 21.17.'

Mr Guadion said it wasn't clear what had caused the ferry to drift.

Manche Iles had planned to send a replacement ferry from Jersey late last night but the sailing was scrapped after Mr Gaudion said weather conditions meant the harbour may not be able to accommodate the vessel.

States marketing manager Joanna Parmentier worked tirelessly to find every passenger a bed for the night at several hotels and guest houses in the island. All the passengers were taken to Alderney Sailing Club for a hot drink before being taxied to their chosen accommodation at about 11.30pm.
---
Next story: Guernsey firm awarded Connaught contract
Previous story: Miracle escape from burning plane
Current issue 1284 - Dec 1st 2023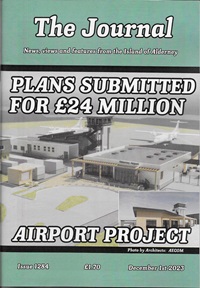 PLANS SUBMITTED FOR £24 MILLION AIRPORT PROJECT
Back Issues
Back issues
of the Journal are now available

The Guernsey Bereavement Service has made three visits to Alderney over the past few months and would like to continue to help you. We are visiting the island again on Tuesday, 12th November 2013 and would invite anyone who feels they would like Bereavement Counselling to telephone the Bereavement Service Office on 257778 to make a time to meet one of our counsellors.

What's on in Alderney

, ,

, ,
Journal all over the World

Great Wall photo wins picture prize
Things to do in Alderney
Contact details of Alderney Clubs and Societies