C-Permit plans are 'hare brained'
Posted Tue 13th October 2009 at 12:55
Proposed changes to the C-Permit system have been criticised by a local estate agent.

The Building and Development Control Committee is planning to introduce a system which will allow islanders to build on two occasions but only sell the properties to people who also meet the C-Permit regulations.

Francis Simonet, proprietor of Alderney Estate Agency, described the idea as "hare brained" and said it would create a two-tier housing scheme in the island.

BDCC chairman Liz Bennett outlined the scheme during September's States meeting.

She said: "The BDCC has been reviewing several areas of policy during the year, including C-Permits. The committee wishes to favour building for suitably qualified, locally resident people rather than promoting exemption ordinances for property developers. The latter have not, despite their best intentions, delivered affordable housing for local people for any length of time."

Mrs Bennett said C-Permits will be renamed "permits under section 33 (1) of the BDCC law" and said those who apply must still be over 18 years of age and have lived in the island for an aggregate of 16 years in any 20-year period. Applicants must also be ordinarily resident in Alderney.

She added: "In future any dwelling built under section 33 (1) must always be owned by a person who is similarly qualified. This is to avoid an increase in homes being speculatively built and sold to second home owners.

"It is intended that a person qualified to build under section 33 (1) will be able to build on two occasions and to own no more than two such properties.

"The committee also hopes that this will discourage the building of large, more profitable dwellings which tends to occur when everyone gets only one opportunity to build. With two such opportunities smaller properties will be feasible and, hopefully, remain in the price range of suitably qualified people.

"The committee also hopes that this will encourage applications for locally resident people to build, so stimulating the building trade in these difficult times."

Mr Simonet rejected Mrs Bennett's proposal.

He said: "It's another hare brained scheme to create a two-tier housing market in Alderney that has not been thought through properly.

"Alderney is not large enough to sustain a two-tier housing scheme. There would not be enough buyers to keep the market fluid."

Mr Simonet believes the scheme could cost house builders dearly.

"The purchase price would be dictated by the eventual buyers, which could lead to substantial losses for the people who built the properties."

The States' Law Officers are due to draft the new legislation imminently. Any changes to the C-Permit system will require the backing of the full States.
---
Next story: Quay cost questioned at meeting
Previous story: Search for Cliff will continue
Current issue 1283 - Nov 17th 2023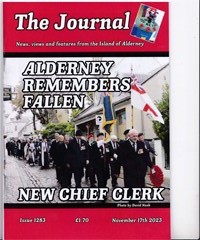 ALDERNEY REMEMBERS FALLEN
NEW CHIEF CLERK
Back Issues
Back issues
of the Journal are now available

The Guernsey Bereavement Service has made three visits to Alderney over the past few months and would like to continue to help you. We are visiting the island again on Tuesday, 12th November 2013 and would invite anyone who feels they would like Bereavement Counselling to telephone the Bereavement Service Office on 257778 to make a time to meet one of our counsellors.

What's on in Alderney

, ,

, ,
Journal all over the World

Great Wall photo wins picture prize
Things to do in Alderney
Contact details of Alderney Clubs and Societies