States member fractures spine
Posted Wed 1st July 2009 at 14:48
ALDERNEY States member Peter Allen had to be airlifted to Guernsey on Tuesday after breaking his back.

Mr Allen, who is an electrician for Alderney Electricity, was working at the power station when he fell off a ladder shortly before 11am.

Mr Allen, 43, said; "I lost my footing on the ladder, fell from about two feet in the air and stumbled backwards.

"It wasn't very dramatic but I fell awkwardly. I tried to get up but was in too much pain."

Father of three Mr Allen was airlifted to Guernsey's Princess Elizabeth Hospital where X-rays showed he had suffered a fracture of a lumber vertebra.

Mr Allen, who was elected to the States eight months ago, said: "It's a stable spinal fracture - one that doesn't affect the spinal chord - so I've been quite lucky.

"I've been given a back brace and feel OK when I'm wearing it. I've been in a lot of pain but the medication has helped."

Mr Allen went on to praise medical staff in Alderney and Guernsey.

"Everybody who helped me was really impressive, from the first aiders at work to all the doctors and nurses in Guernsey. I'd also like to give a special mention to Dr Bob Marks, who was brilliant."

Mr Allen is recuperating at his Le Banquage home. He will return to the PEH's fracture clinic in a fortnight, after which he is hoping to get back to work.
---
Next story: Royals enjoy Alderney visit
Previous story: A tribute to the King of Pop
Current issue 1284 - Dec 1st 2023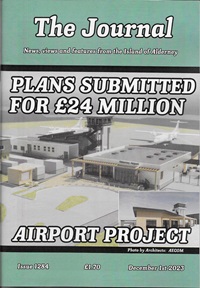 PLANS SUBMITTED FOR £24 MILLION AIRPORT PROJECT
Back Issues
Back issues
of the Journal are now available

The Guernsey Bereavement Service has made three visits to Alderney over the past few months and would like to continue to help you. We are visiting the island again on Tuesday, 12th November 2013 and would invite anyone who feels they would like Bereavement Counselling to telephone the Bereavement Service Office on 257778 to make a time to meet one of our counsellors.

What's on in Alderney

, ,

, ,
Journal all over the World

Great Wall photo wins picture prize
Things to do in Alderney
Contact details of Alderney Clubs and Societies