Royals enjoy Alderney visit
Posted Wed 8th July 2009 at 12:08

Cheering for the Earl and Countess of Wessex began long before the royal couple touched down in Alderney on Tuesday.

Scores of islanders, holidaymakers and schoolchildren warmed up for the pair's arrival by chanting their names and enthusiastically waving Union Jack flags.

Their royal highnesses arrived on Braye Common shortly after 2.30pm â?? just moments after the clouds cleared and sunshine began bathing the island.

After being welcomed by President of the States, Sir Norman Browse, and chief executive, David Jeremiah, the couple spent time talking to members of the crowd before embarking on a whistle-stop tour of the island.

Locals Ron and June Morton spoke to the Earl just moments after he had landed.

Mrs Morton said: "He was very nice to speak to â?? you wouldn't know he was a member of the royal family.

"I thought he looked slimmer in the flesh and quite a lot like the Duke of Edinburgh."

The Earl also spent time talking to holidaymakers Dominic and Sally Redmond, who were staying in the island with their two-year-old twin sons, Luke and Lewis.

Mrs Redmond said: "I didn't expect the Earl to come up and talk to us. He was very friendly and asked what we were doing in the island. It's good for Alderney that you can get so close to a member of the royal family here."

St Anne's School pupil Lara Gaudion, 11, said she was excited to see the Earl and Countess.

"We all said â??welcome to Alderney' and the Earl said â??thank you'. It was exciting to see him arrive in a helicopter. I think he's amazing and really cool."

Schoolgirl Demelza Perry, 12, talked tennis with the Earl.

"Edward told us he played old fashioned tennis. He said he didn't play normal tennis because the court's too small and the net's too high."

Dante Walker, 11, was happy to see the royals arrive by helicopter.

He said: "The helicopter was great. I thought the wing was going to come off when it landed but everything was OK. Everybody was excited to see Edward and Sophie."

Girl Guides Emma Etheredge and Ali Borthwick, both 11, were impressed with the couple's arrival and appearance.

Miss Etheredge said: "I wish I was a royal. I'd love to fly in a helicopter and spend time meeting people."

Miss Borthwick said: "Sophie looked really pretty. Her outfit was smart and she was really nice."

After talking to numerous children, the Earl bumped into an old school friend. Michael James, who spends six months a year in Alderney, shook hands with his former chum and urged him to visit the Channel Islands more often.

Mr James said: "I went to Gordonstoun School with Edward from the age of 13 to 18. We were in the same house, Duffus.

"It was good to see him again. I told him he would enjoy coming to the Channel Islands on private visits."

The Earl and Countess viewed redevelopment work on the commercial quay before visiting the museum. Afterwards they met members of Alderney Militia and visited the Island Hall to meet local dignitaries.

A short tour of the island followed before their highnesses departed Braye Common at 4.30pm.
---
Next story: Surprise, surprise it's Alderney Week
Previous story: States member fractures spine
Current issue 1283 - Nov 17th 2023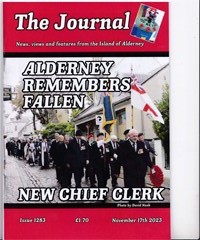 ALDERNEY REMEMBERS FALLEN
NEW CHIEF CLERK
Back Issues
Back issues
of the Journal are now available

The Guernsey Bereavement Service has made three visits to Alderney over the past few months and would like to continue to help you. We are visiting the island again on Tuesday, 12th November 2013 and would invite anyone who feels they would like Bereavement Counselling to telephone the Bereavement Service Office on 257778 to make a time to meet one of our counsellors.

What's on in Alderney

, ,

, ,
Journal all over the World

Great Wall photo wins picture prize
Things to do in Alderney
Contact details of Alderney Clubs and Societies