Allen tops poll on dramatic election night
Posted Mon 8th December 2008 at 10:37
Four new faces were elected to the States of Alderney on a dramatic election night.

Newcomers Peter Allen, Boyd Kelly, Geoffrey Sargent and John Beaman will all take their places on the States next year, along with Bill Walden ? the only current member to be re-elected.

Barry Pengilley and Lin Maurice both lost their seats after finishing seventh and eighth respectively. Don Oakden was sixth, while Lois FitzGerald and Martin Hunt, who both stood in the recent by-election, claimed ninth and tenth place.

It was Mr Beaman's election that caused controversy. He finished in joint fifth place after polling the same number of votes as Mr Oakden. A tie, which is thought to be unprecedented in the island's political history, led to returning officer David Jeremiah picking the winning candidate's name from a ballot box.

Despite the drama over fifth place, it was local born Mr Allen who proved the star of the night. The electrician and former soldier polled 520 votes ? 111 more than his nearest rival.

'I'm over the moon. I'm pleased with the turnout and I'm pleased for the candidates who got in and commiserate with those who didn't,' said Mr Allen.

'I didn't expect to win by such a long way, but during the day, just by speaking to different people, it did appear it was going pretty well.'

Mr Allen said the fact he is local man helped him get elected.

'I think being a local always gets you a certain amount of votes. There's quite a loyal following but obviously a lot of other people voted for me and hopefully I can do my bit for them as well.'

Mr Allen earmarked the island's tidal power and marina projects as his priorities.

'Tidal power is a big thing. It's a long-term project but one that has such huge potential for Alderney.

'I'd also like to see a marina ? it has dithered along for so long now that I think we need to see some progress with it.'

Mr Allen also called for the States to be more open with the public.

'I wouldn't have a problem with open committee meetings. As I said in my manifesto, we don't have nuclear weapons or a secret service and therefore not many reasons to be secretive.'

Despite his huge mandate, Mr Allen said he may not have the time to put himself forward to become one of Alderney's representatives in Guernsey.

'Standing in the plebiscite is something I would have liked to have done, but being a working man with a family, I think time will be against me. I'll almost certainly think about standing in the future but I don't think it's feasible at the moment.'

More than 700 islanders voted in the election, which represented a turnout of 65.6%. Those elected will serve until 31 December 2012.

The plebiscite to elect the island's Guernsey representatives takes place next Saturday. A list of candidates is due to be published later today.


States of Alderney Ordinary Election 6 December
Peter Allen
520
Boyd Kelly
409
Geoffrey Sargent
376
Bill Walden
312
John Beaman
294
Don Oakden
294
Barry Pengilley
220
Lin Maurice
201
Lois FitzGerald
199
Martin Hunt
98
Related stories:
---
Next story: States members to receive flat-rate salary
Previous story: States to debate price hikes
Current issue 1283 - Nov 17th 2023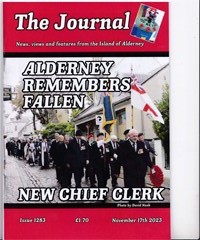 ALDERNEY REMEMBERS FALLEN
NEW CHIEF CLERK
Back Issues
Back issues
of the Journal are now available

The Guernsey Bereavement Service has made three visits to Alderney over the past few months and would like to continue to help you. We are visiting the island again on Tuesday, 12th November 2013 and would invite anyone who feels they would like Bereavement Counselling to telephone the Bereavement Service Office on 257778 to make a time to meet one of our counsellors.

What's on in Alderney

, ,

, ,
Journal all over the World

Great Wall photo wins picture prize
Things to do in Alderney
Contact details of Alderney Clubs and Societies