States asked to hold October by-election
Posted Wed 16th July 2008 at 13:32
Alderney States will decide next week whether to hold a by-election in October.

A June by-election, organised to fill the vacancy left by Richard Cox, failed to attract any candidates and President Sir Norman Browse has written to the States suggesting a poll should now take place on 11 October.

Sir Norman has earmarked 11 October as it falls before a new electoral roll comes into effect and is at least a month before the end-of-year elections, when five seats on the States will be contested.

Sir Norman said: "To avoid any confusion with the end of year elections it would seem sensible to hold a by-election before the main elections take place in either late November or early December.

"The coming into effect of the new roll on 15 October means either that polling day must be before that date or the entire by-election process (including nominations) be gone through thereafter. The process cannot span a period commencing before and ending after it. Unfortunately, if the by-election is held before 15 October then those who have only registered this year will not be able to participate in it."

Mr Cox resigned from the States in May in order to study at King's College, London. Whoever replaces him will hold office until the remainder of his term, which ends on 31 December 2010.
---
Next story: Willmott believes in marina project
Previous story: More tourists are choosing Alderney
Current issue 1284 - Dec 1st 2023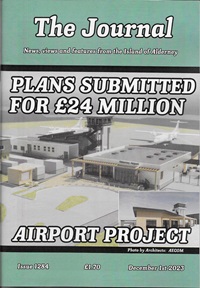 PLANS SUBMITTED FOR £24 MILLION AIRPORT PROJECT
Back Issues
Back issues
of the Journal are now available

The Guernsey Bereavement Service has made three visits to Alderney over the past few months and would like to continue to help you. We are visiting the island again on Tuesday, 12th November 2013 and would invite anyone who feels they would like Bereavement Counselling to telephone the Bereavement Service Office on 257778 to make a time to meet one of our counsellors.

What's on in Alderney

, ,

, ,
Journal all over the World

Great Wall photo wins picture prize
Things to do in Alderney
Contact details of Alderney Clubs and Societies