Policy chairman's plea for code of conduct inquiry
Posted Mon 20th May 2013 at 15:04

Policy Committee chairman Paul Arditti has written an open letter to fellow States Members asking that a motion of no confidence against him is dropped in favour of a Code of Conduct inquiry.

Policy Committee members agreed on a censure motion against their chairman after he allegedly precipitated a crisis within the board of Alderney Electricity Ltd.

After he refused to step down fellow Policy Committee member Francis Simonet asked the States to approve his removal from the group through Government of Alderney laws.

The motion against him states that Mr Arditti's 'actions and conduct in respect of the matters concerning AEL were inappropriate, falling short of the standard to be reasonably expected of the chairman of a States of Alderney committee. This is clearly the case when taking into account the general principles of conduct for holders of public office.'

Mr Arditti claims the response he has had from the public indicates people do not want the motion of no confidence to be passed at the Wednesday States meeting.

He points out that the Members Code of Conduct, adopted by the States in 2009, contains a mechanism for the 'independent investigation of any and all complaints about my conduct and judgement in relation to AEL."

The Alderney Members' Code of Conduct is similar to Guernsey's and not legally enforceable. It sets out a system for investigating behaviour of States Members. After referral of the matter to the Greffier, if it seems substantiated the President appoints an independent panel to investigate, which can request testimonies and evidence.

In his open letter Mr Arditti asks each member if they consider themselves bound by the Code of Conduct and if they would agree to refer complaints about him to an independent panel and stop the vote of no confidence in him.


---
Next story: People's Meeting: We don't want resignations
Previous story: Steve Roberts is elected to the States of Alderney
Current issue 1284 - Dec 1st 2023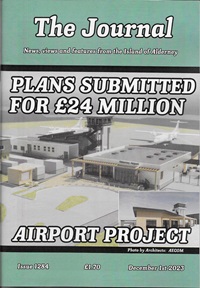 PLANS SUBMITTED FOR £24 MILLION AIRPORT PROJECT
Back Issues
Back issues
of the Journal are now available

The Guernsey Bereavement Service has made three visits to Alderney over the past few months and would like to continue to help you. We are visiting the island again on Tuesday, 12th November 2013 and would invite anyone who feels they would like Bereavement Counselling to telephone the Bereavement Service Office on 257778 to make a time to meet one of our counsellors.

What's on in Alderney

, ,

, ,
Journal all over the World

Great Wall photo wins picture prize
Things to do in Alderney
Contact details of Alderney Clubs and Societies