Storm almost born on the high seas
Posted Fri 19th August 2011 at 16:36

A first-time mum was just 58 minutes away from giving birth on Alderney's lifeboat in rough seas.

Ebony Jenkins, 22, had to travel to Guernsey's Princess Elizabeth Hospital by sea after thick fog prevented Aurigny from operating a medical evacuation.

And after giving birth to Talia less than an hour after RNLI vessel Roy Barker I sailed into St Peter Port in blustery conditions, a special middle name was given to the 7lb 2oz tot - Storm.

Miss Jenkins, of Le Banquage, told the Guernsey Press she half expected to take the lifeboat to give birth as her dad, James Walker, is one of the crew members.

Miss Jenkins said: "It was a standing joke in our family that I would have to go over by boat because my dad works on the lifeboat. We all said it would be just my luck.

"In the end it was fine as I get on really well with all the lads on board. They were absolutely amazing."

Miss Jenkins said the crossing, which encountered force six gales, was a bit of a blur.

"It was rough, but I didn't really notice. My contractions were about a minute and a half apart and a minute long, so it was a bit touch and go whether it would happen on the boat.

"If the sea had been any rougher and we had been going any slower it would definitely have been a possibility."

Ebony had two midwives, her mother and aunt with her on the boat.

She added: "I was sat down for most of the crossing, but towards the end we sent all the men out and I had to lie down in the middle of the boat."

The vessel arrived at 10.40am last Friday and a waiting ambulance took Miss Jenkins to the PEH at 10.55am. Talia was born at 11.38am.

Grandmother Kerry Walker chose Talia's middle name so the whole family would remember the drama of the baby's birth.

Miss Jenkins added: "I hope to have a bit more warning next time - and I really hope I can go by plane."
---
Next story: Economy is analysed
Previous story: Aurigny boss: "We're committed to Alderney"
Current issue 1284 - Dec 1st 2023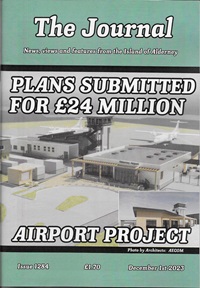 PLANS SUBMITTED FOR £24 MILLION AIRPORT PROJECT
Back Issues
Back issues
of the Journal are now available

The Guernsey Bereavement Service has made three visits to Alderney over the past few months and would like to continue to help you. We are visiting the island again on Tuesday, 12th November 2013 and would invite anyone who feels they would like Bereavement Counselling to telephone the Bereavement Service Office on 257778 to make a time to meet one of our counsellors.

What's on in Alderney

, ,

, ,
Journal all over the World

Great Wall photo wins picture prize
Things to do in Alderney
Contact details of Alderney Clubs and Societies