Grease is the word
Posted Fri 25th March 2011 at 11:41

Grease has certainly been the word at St Anne's School this week.

More than 20 pupils have been involved in the school's latest production, with Joe Stanley and Shannon Clarke taking the lead roles of Danny and Sandy.

Head teacher Mike Gaunt, the show's director, said rehearsals had gone well.

"It's been good so far. Everybody has worked hard and we're prepared for three sell-out shows."

The school decided to perform Grease, which was made famous by John Travolta and Olivia Newton-John in the 1970s, straight after last year's show.

Mr Gaunt said: "When we finished Bugsy we decided to go for Grease. It's a classic show for youngsters of any age - we've enjoyed getting children from years five and six involved."

The three-night run began on Thursday and full houses were expected for each performance.
---
Next story: "Great Stone Catastrophe"
Previous story: Member calls for action on mental health
Current issue 1284 - Dec 1st 2023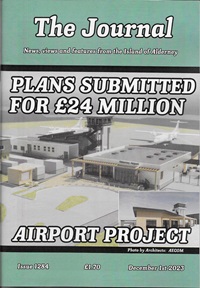 PLANS SUBMITTED FOR £24 MILLION AIRPORT PROJECT
Back Issues
Back issues
of the Journal are now available

The Guernsey Bereavement Service has made three visits to Alderney over the past few months and would like to continue to help you. We are visiting the island again on Tuesday, 12th November 2013 and would invite anyone who feels they would like Bereavement Counselling to telephone the Bereavement Service Office on 257778 to make a time to meet one of our counsellors.

What's on in Alderney

, ,

, ,
Journal all over the World

Great Wall photo wins picture prize
Things to do in Alderney
Contact details of Alderney Clubs and Societies