Six dead after Noel Hayes plane crashes
Posted Thu 10th February 2011 at 16:19
Six air passengers have died after a plane leased by Alderney resident Noel Hayes crashed in Ireland.

The other six on board were injured in the incident and are being treated at Cork University Hospital. Four are said to be in a serious condition.

Mr Hayes, who owns a property in Le Petit Val and is a director of Alderney Electricity, launched Rockhopper, which was later bought by Healthspan and re-branded Blue Islands. He is understood to have last visited the island in January.

The Manx2 plane was coming in to land at Cork Airport in thick fog this morning (Thursday). The aircraft overturned and burst into flames with ten passengers and two crew members on board.

A Manx2 spokesman said: "The aircraft left Belfast City Airport at 7.50 this morning and was due to land in Cork at 9am.

"Due to weather conditions at Cork Airport the aircraft tried to land twice, and the incident took place on its third approach.

"We are working with all relevant authorities to establish what happened. We would like to express our sincere sympathies to the families of those who lost their lives in this tragic accident."

Mr Hayes spends most of his time in the Isle of Man, where Manx2 is based.


---
Next story: "Let us run our own police force"
Previous story: Police & RNLI search for "drunken" man
Current issue 1284 - Dec 1st 2023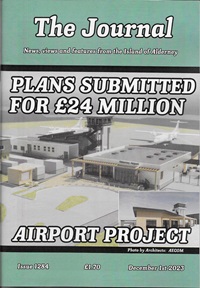 PLANS SUBMITTED FOR £24 MILLION AIRPORT PROJECT
Back Issues
Back issues
of the Journal are now available

The Guernsey Bereavement Service has made three visits to Alderney over the past few months and would like to continue to help you. We are visiting the island again on Tuesday, 12th November 2013 and would invite anyone who feels they would like Bereavement Counselling to telephone the Bereavement Service Office on 257778 to make a time to meet one of our counsellors.

What's on in Alderney

, ,

, ,
Journal all over the World

Great Wall photo wins picture prize
Things to do in Alderney
Contact details of Alderney Clubs and Societies