Beaman is new P&F chief
Posted Wed 12th January 2011 at 19:47
John Beaman has been elected chairman of Alderney's main States committee.

Mr Beaman takes over as head of Policy and Finance after Richard Willmott stepped down from the States last year. He polled five votes at tonight's meeting - just one more than Ian Tugby, who had earlier been elected Vice-President, following the retirement of Colin Williams. Mr Tugby polled six votes for the role, three more than Bill Walden.

Mr Beaman, who was elected to the States in 2008, said he would look to include every member in the decision making process.

"I think I can represent the other members. We have a talented bunch of people and I'll try and get the best out of everybody. Each member has got something to offer and I want to include everybody - it'll be total inclusion."

Paul Arditti, who along with Boyd Kelly was elected to represent Alderney in Guernsey's States last month, also coveted the P&F chairmanship, but failed to receive a single nomination. He was later voted on to General Services, along with Mr Beaman, Mr Tugby, Mr Kelly and Raymond Berry. Mr Arditti wasn't at the meeting as he is on holiday. He was sworn in as a member in December.

Mr Walden remains chairman of General Services, while Geoffrey Sargent continues as chairman of Building and Development Control. Both were re-elected unopposed. Peter Allen, Tony Llewellyn, Matt Birmingham and Mr Berry will also serve on Building and Development.

Elsewhere, Mr Allen, Mr Llewellyn and Mr Walden were elected onto Alderney's management committee for the Commonwealth Parliamentary Association.

Mr Berry and Mr Birmingham were attending their first States meeting, after being elected in November. They were sworn in along with Mr Llewellyn and Mr Tugby, who retained their seats.

The only other significant States business concerned the Royal wedding on April 29, which members agreed should be a public holiday in Alderney.




---
Next story: Police & RNLI search for "drunken" man
Previous story: Green light for major housing estate
Current issue 1283 - Nov 17th 2023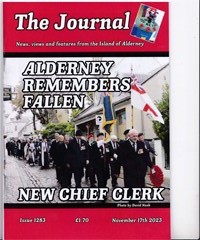 ALDERNEY REMEMBERS FALLEN
NEW CHIEF CLERK
Back Issues
Back issues
of the Journal are now available

The Guernsey Bereavement Service has made three visits to Alderney over the past few months and would like to continue to help you. We are visiting the island again on Tuesday, 12th November 2013 and would invite anyone who feels they would like Bereavement Counselling to telephone the Bereavement Service Office on 257778 to make a time to meet one of our counsellors.

What's on in Alderney

, ,

, ,
Journal all over the World

Great Wall photo wins picture prize
Things to do in Alderney
Contact details of Alderney Clubs and Societies