Green light for major housing estate
Posted Wed 22nd December 2010 at 19:30
Thirty-six properties are to be developed in Alderney after States members backed building plans for the former Grand Hotel site.

But developers Blue Horizon Ltd didn't get the green light without a fight after three members attacked the plans, which include a provision for 13 social houses.

Bill Walden said: "The plans for this site are some of the ugliest I've seen - they're more suitable for Benidorm than the Butes."

Mr Walden went on to say he didn't believe all the work would go to local contractors and said the scheme's social housing aspect was inadequate.

John Beaman said there were plenty of properties already for sale in the island and that more would not help the struggling market.

He added: "One could be forgiven for thinking the Building and Development Control Committee conducts its meetings in a parallel universe. Alderney needs a new housing estate like it needs snow at the airport in the run up to Christmas."

Boyd Kelly also voted against the plans.

He said: "This development, in a prime and visible location, is too dense, too unsightly and, to put it bluntly, a blot on the landscape."

Richard Willmott said the scheme would have its benefits.

"The properties being proposed are different to the ones currently on the market and they might entice people to come and live here who would otherwise not come."

Geoffrey Sargent, Ian Tugby and Tony Llewellyn all said the development would offer a significant boost to the island's building contractors, while Peter Allen also backed the plans.

Members also agreed to transfer land at Platte Saline to Alderney Housing Association and debated a green paper on fisheries legislation.

Annual reports from the three main committees - Policy and Finance, General Services and Building and Development Control - were also noted by members.

States President Sir Norman Browse paid tribute to outgoing members Mr Willmott and Colin Williams, who was unable to attend the meeting. He said both had made a huge contribution to the States.




---
Next story: Beaman is new P&F chief
Previous story: Public scoff at Grand plans
Current issue 1284 - Dec 1st 2023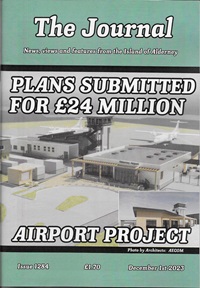 PLANS SUBMITTED FOR £24 MILLION AIRPORT PROJECT
Back Issues
Back issues
of the Journal are now available

The Guernsey Bereavement Service has made three visits to Alderney over the past few months and would like to continue to help you. We are visiting the island again on Tuesday, 12th November 2013 and would invite anyone who feels they would like Bereavement Counselling to telephone the Bereavement Service Office on 257778 to make a time to meet one of our counsellors.

What's on in Alderney

, ,

, ,
Journal all over the World

Great Wall photo wins picture prize
Things to do in Alderney
Contact details of Alderney Clubs and Societies