Blue-Aurigny deal is dead
Posted Tue 14th September 2010 at 11:19
Aurigny will not be sold to Blue Islands.

Guernsey's Treasury and Resources Department (T&R) announced it had formally ended discussions with Blue Islands last night.

Since announcing the possible sale in July, T&R has obtained legal advice and concluded the merger would not secure Guernsey's Gatwick slots or produce a profitable airline in the long-term.

The news will come as a relief to many in Alderney, including States members and business leaders, many of who voiced their disapproval of the potential deal.

Blue Islands boss Derek Coates attacked T&R's decision to keep Aurigny as a States-owned company.

He said: "It is a dark day for the Guernsey taxpayer as this decision now means that they will have to continue to support Aurigny losses in perpetuity. [That] money could have been spent on more valuable social needs.

"We believe that no other company will ever offer a better or more secure future for Aurigny, if it was to be sold by the States, than has been offered by Blue Islands.

"Aurigny's business plans are paralysed by a lack of further investment and in our opinion its financial future will continue to deteriorate for the foreseeable future."

Mr Coates went on to attack Aurigny, which he accused of mounting a "vigorous PR programme".

"I congratulate Malcolm Hart [Aurigny managing director] for spending significant amounts of taxpayer money on advertising and PR to defend their management jobs and the status quo against the express wishes of their owners, the States of Guernsey and the island's taxpayers."

Mr Hart, meanwhile, welcomed the news and praised staff for their hard work during uncertain times.

He said: "The Aurigny Group welcomes the decision announced today by T&R not to proceed with discussions on the possible sale to Blue Islands.

"This has been a traumatic experience for Aurigny Group staff who have worked extremely hard to ensure the airline has continued to provide service of the highest standard. We commend and thank them for their loyalty during this period of great uncertainty."

A T&R spokesman said: "The department now intends to focus its efforts on working collaboratively with the board and management of the Aurigny Group in developing a strategy for reducing the group's losses."
---
Next story: States meeting postponed
Previous story: Fisherman slates States members
Current issue 1270 - May 19th 2023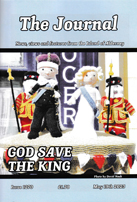 Back Issues
Back issues
of the Journal are now available

The Guernsey Bereavement Service has made three visits to Alderney over the past few months and would like to continue to help you. We are visiting the island again on Tuesday, 12th November 2013 and would invite anyone who feels they would like Bereavement Counselling to telephone the Bereavement Service Office on 257778 to make a time to meet one of our counsellors.

What's on in Alderney

, ,

, ,
Journal all over the World

Great Wall photo wins picture prize
Things to do in Alderney
Contact details of Alderney Clubs and Societies