Blue Islands boss to host meeting
Posted Tue 20th July 2010 at 12:51
Blue Islands boss Derek Coates is to answer questions on the proposed Aurigny takeover at Alderney's Island Hall next week.

The open meeting will start at 7pm on Monday (July 26).

Alderney's politicians and business leaders have expressed concern over the potential deal, which would leave the island with just one airline.

The Chamber of Commerce is worried Blue Islands would cut Alderney's direct link to the UK, while there are also concerns over potential job losses.

Mr Coates has said there is "no chance" of the island's service to Southampton being cut. He did, however, say job losses were inevitable should the deal get the green light from Guernsey States members.
---
Next story: Islanders against GST
Previous story: Alderney Shipping bags vital contract
Current issue 1284 - Dec 1st 2023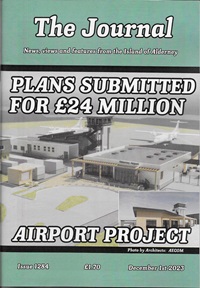 PLANS SUBMITTED FOR £24 MILLION AIRPORT PROJECT
Back Issues
Back issues
of the Journal are now available

The Guernsey Bereavement Service has made three visits to Alderney over the past few months and would like to continue to help you. We are visiting the island again on Tuesday, 12th November 2013 and would invite anyone who feels they would like Bereavement Counselling to telephone the Bereavement Service Office on 257778 to make a time to meet one of our counsellors.

What's on in Alderney

, ,

, ,
Journal all over the World

Great Wall photo wins picture prize
Things to do in Alderney
Contact details of Alderney Clubs and Societies