Residents speak out about building rules
Posted Thu 11th March 2010 at 17:36
Concerns over Alderney's building rules were raised at Wednesday night's people's meeting.

Residents spoke out over Peter Arnold's application to build a one-bedroom dwelling in the grounds of Pottery House, which he owns.

The Building and Development Control Committee (BDCC) has promoted the application, which requires a housing exemption ordinance before it can be passed, as former States member Mr Arnold will be able to downsize and offer his current property for rent.

Carole Neill said granting the ordinance would set a dangerous precedent.

"If we give it to one person we must give it to everybody," said Mrs Neill. "I think this is a very dangerous precedent - there are so many loopholes as it is."

Former States member Frank Dean called for BDCC policy to be updated as soon as possible but said he supported plans to encourage the development of smaller properties for elderly people.

States member Liz Bennett, who chaired the meeting, said: "Every application is looked at on its own merits.

"This particular application is being supported as the committee believes Alderney needs smaller properties to be built, particularly in the town area. It was also felt the design is sustainable and does not have any visual impact.

"Furthermore the application includes a commitment to rent out the larger property, which will increase the rental stock, and will also not impact on the green belt."

Chief executive David Jeremiah said: "The committee feels this should be debated by the States. The ordinance can only go through if it is passed by the States."

The States meeting, which will be attended by Lieutenant Governor Sir Fabian Malbon, will take place next Wednesday (March 17) at 5.30pm at the Courthouse.
---
Next story: Goats bring flying to a halt in Alderney
Previous story: Marine expert set to join ACRE
Current issue 1283 - Nov 17th 2023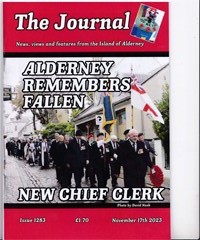 ALDERNEY REMEMBERS FALLEN
NEW CHIEF CLERK
Back Issues
Back issues
of the Journal are now available

The Guernsey Bereavement Service has made three visits to Alderney over the past few months and would like to continue to help you. We are visiting the island again on Tuesday, 12th November 2013 and would invite anyone who feels they would like Bereavement Counselling to telephone the Bereavement Service Office on 257778 to make a time to meet one of our counsellors.

What's on in Alderney

, ,

, ,
Journal all over the World

Great Wall photo wins picture prize
Things to do in Alderney
Contact details of Alderney Clubs and Societies