Footballers urged to make history
Posted Fri 26th February 2010 at 12:28

Alderney's footballers have been urged to make history in next month's Muratti semi-final against Jersey.

Manager Kevin Gentle believes his squad is fitter than ever and capable of giving Jersey a fright.

Gentle said: "Preparations are going well. Most of our players have been playing in Guernsey for the last two years and competing against higher end opposition has helped them. We're fitter than ever and raring to go."

Much has been said about Alderney's youth development scheme, which has provided Gentle with several players in recent months, some of whom could make their Muratti debuts on March 20.

"Some of the younger players have a great chance of breaking into the squad," said Gentle. "Their attitude is great - they just want to play football - and they're in the Nomads team on merit. They're all hoping to be involved in the Muratti, so it's a carrot we keep dangling in front of them."

The majority of Alderney's team will be made up of Nomads players, with one notable exception.

Gentle said: "All the team will be local lads apart from Jason Atkins. He's a centre-half and has played with us for quite a few years. He couldn't make the Muratti last year but he'll definitely add something against Jersey."

Nomads have three matches before the Muratti and Gentle hopes to test his plans in those games.

"We've got two away fixtures before the semi-final and I hope to have a full squad available for each. These games will give us a chance to work on formation.

"We will be prepared. It won't just be a case of turning up. We will have a game plan. In recent years it's been about keeping the score down but our guys will play to their strengths."

Gentle went on to outline Alderney's strengths and give a sneak preview of his Muratti team talk.

"We have a good team spirit; the lads understand it's not all me, me, me. We all want the best for Alderney football. We've got desire and commitment and I believe we've got the right players - it's just about getting them into the right positions.

"The chance of making history is there every year. I'll tell the players to treat it as their last ever game and ask them how they want to be remembered."
---
Next story: Police make second firearms arrest
Previous story: Guiseppe Cataldo Pirito
Current issue 1283 - Nov 17th 2023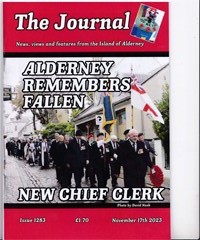 ALDERNEY REMEMBERS FALLEN
NEW CHIEF CLERK
Back Issues
Back issues
of the Journal are now available

The Guernsey Bereavement Service has made three visits to Alderney over the past few months and would like to continue to help you. We are visiting the island again on Tuesday, 12th November 2013 and would invite anyone who feels they would like Bereavement Counselling to telephone the Bereavement Service Office on 257778 to make a time to meet one of our counsellors.

What's on in Alderney

, ,

, ,
Journal all over the World

Great Wall photo wins picture prize
Things to do in Alderney
Contact details of Alderney Clubs and Societies