Weather fails to dampen spirits
Posted Mon 3rd August 2009 at 10:54

Damp conditions failed to put off hundreds of Alderney Week revellers on Saturday.

Islanders and tourists packed Victoria Street to enjoy the opening ceremony, which featured town crier Robin Whicker, the ever-popular KFA Dance Troupe and a money-hungry Chinese fortune dragon called Cookie.

Gloomy conditions and intermittent rain meant umbrellas and waterproof clothing were required by much of the crowd in St Anne. However, the KFA performers braved the bad weather to showcase four dances before more than 20 local schoolchildren carried the 75ft dragon. Shortly after islander Emma Odoli won the annual town crier competition, which attracted a dozen entrants.

At 3pm more than 30 athletes took part in the Fun Triathlon - an event which involved swimming in Braye Bay following an exhausting cycle to Fort Corblets and run back to the start line.

In the evening Brighton-based trio Lady Marmalade performed hits from the 1970s, '80s and '90s on the Butes before the Mr Alderney contest took place. Local boy Ryan Capazario picked up the title after impressing the raucous crowd with his chat-up lines. The first quarry party of the year then got underway and didn't end until breakfast time on Sunday.

Speaking yesterday, chief organiser Ronnie Cairnduff said: 'Everything's going absolutely fabulously well. Despite the weather we're determined that nothing will be cancelled. We may have to postpone the odd event but we'll do all we can to make sure everything goes ahead.'

Ronnie said Cookie the dragon was particularly popular.

'The dragon was fantastic. It was something totally different and a nice surprise for everybody. Twenty-four children carried it into Victoria Street and helped raise about £100.'

Ronnie is hoping today's Cavalcade - the festival's flagship event - won't be affected by the weather.

'Hopefully the weather will be good for the Cavalcade. If the sun's out everybody will be happy. We've got plenty of floats this year and they all look fantastic, so fingers crossed the weather will play ball.'

Heavy rain on Saturday afternoon meant the Children's Mini Olympics and pony rides had to be postponed. The Olympics will now take place on Thursday, from 1.30pm on the Butes, while the pony rides were held yesterday.

Visit www.alderneyweek.net for further information on this year's event.
---
Next story: Victoria Street branded worse than London
Previous story: Paul wants more posters
Current issue 1284 - Dec 1st 2023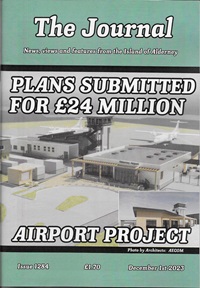 PLANS SUBMITTED FOR £24 MILLION AIRPORT PROJECT
Back Issues
Back issues
of the Journal are now available

The Guernsey Bereavement Service has made three visits to Alderney over the past few months and would like to continue to help you. We are visiting the island again on Tuesday, 12th November 2013 and would invite anyone who feels they would like Bereavement Counselling to telephone the Bereavement Service Office on 257778 to make a time to meet one of our counsellors.

What's on in Alderney

, ,

, ,
Journal all over the World

Great Wall photo wins picture prize
Things to do in Alderney
Contact details of Alderney Clubs and Societies