Alderney, not Guernsey, was sunniest
Posted Sun 19th April 2009 at 09:10
Figures from Brian Bonnard's weather station suggest Alderney - not Guernsey - was the sunniest part of the British Isles in March.

Earlier this month came claims that the bigger island was brightest after recording 214.8 hours of sunshine.

But statistics provided by island weather recorder Mr Bonnard indicate that Alderney enjoyed 272 hours of sunshine in March - almost 50 hours more than our sister isle and twice the amount recorded in the same period last year.

Mr Bonnard said: "With a month that was generally agreed to feel cold, we nevertheless had our sunniest March since 1955 and possibly ever.

"Three days with 11 hours and 11 days with ten hours helped towards the massive total of 272 hours - almost exactly double last year and three times the 20-year average."

Statistics for January, February and March suggest Alderney is on course for one of its sunniest years ever.

Mr Bonnard said: "With almost clear skies from sunrise to sunset on 15 days in March, the total sunshine for the first quarter amounted to 482 hours. Only nine years since 1955 recorded more than 300 hours and only two of those had more than 350 hours."

States marketing manager Joanna Parmentier said: "March was wonderfully sunny and hopefully the good weather will convince people to holiday in Alderney this year.

"We're due a good summer weather-wise and with the euro exchange rate being so poor, it is just another reason to give Alderney a chance."

Also in March, rainfall was equal to the 20-year average, while temperatures, wind speed, barometric pressure and humidity were all similar to the ten-year average. See page 36 in issue 918 of the Journal for Mr Bonnard's full weather report.
---
Next story: Doctor: Tourists should be insured
Previous story: Big Brother makes it to the harbour
Current issue 1284 - Dec 1st 2023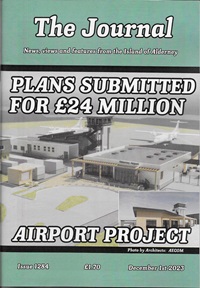 PLANS SUBMITTED FOR £24 MILLION AIRPORT PROJECT
Back Issues
Back issues
of the Journal are now available

The Guernsey Bereavement Service has made three visits to Alderney over the past few months and would like to continue to help you. We are visiting the island again on Tuesday, 12th November 2013 and would invite anyone who feels they would like Bereavement Counselling to telephone the Bereavement Service Office on 257778 to make a time to meet one of our counsellors.

What's on in Alderney

, ,

, ,
Journal all over the World

Great Wall photo wins picture prize
Things to do in Alderney
Contact details of Alderney Clubs and Societies