Red Nose Day fun for new Cubs
Posted Thu 26th March 2009 at 09:10

Alderney's Cubs got into the fund raising spirit on Red Nose Day.

Various competitions and a quiz at St Anne's School meant the boys raised a total of £135 for Comic Relief.

The evening was also special for six new Cubs, Rory Whalley, Aaron Frost, Louis Street, Christopher Neale, Harry Craig and Elliot Barras, who were all invested on the night.

Annabel Finding said: "The Cubs met on Red Nose Day for a very special evening to invest six new Cubs.

"All the parents and families were invited and we had a fun-filled evening with Red Nose Day competitions, cake stalls, competitions and a very noisy quiz.

"We were delighted to raise £135, which is enough to buy 27 mosquito nets to protect African children from malarial mosquitos. The number means we have each donated something as it is one from every Cub and adult helper."

Annabel thanked everyone for turning up and helping to raise cash for a good cause.

She said: "A big thank you to everybody who contributed both money and time to making the evening a big success and well done Cubs for helping others in need."

The Cubs' next charity event is a jumble sale at the Island Hall on April 25. All the money raised from the day will be donated to the Scout hut fund and the Royal National Lifeboat Institution.

Annabel went on to reveal that Denise English is hoping to start a Beaver colony after Easter and that anyone aged six to eight who would like to join should watch out for posters in the schools and around town.

Anyone interested in joining the Beavers or who would like to help set up a Scout group should contact Annabel on 824623.
---
Next story: Big Brother makes it to the harbour
Previous story: ACRE's secret report seen by only 2 States Members
Current issue 1284 - Dec 1st 2023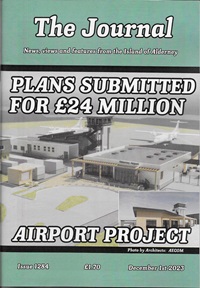 PLANS SUBMITTED FOR £24 MILLION AIRPORT PROJECT
Back Issues
Back issues
of the Journal are now available

The Guernsey Bereavement Service has made three visits to Alderney over the past few months and would like to continue to help you. We are visiting the island again on Tuesday, 12th November 2013 and would invite anyone who feels they would like Bereavement Counselling to telephone the Bereavement Service Office on 257778 to make a time to meet one of our counsellors.

What's on in Alderney

, ,

, ,
Journal all over the World

Great Wall photo wins picture prize
Things to do in Alderney
Contact details of Alderney Clubs and Societies