Snowball smashes 95-year-old's window
Posted Sun 8th February 2009 at 10:00
A 95-year-old woman was left terrified after a snowball smashed her bedroom window just minutes after she had fallen asleep.

Flossie Collins, who lives in Braye Road, had just got into bed in her front room during the early hours of February 2 when one of the windows was put through.

Mrs Collins, who has lived in Alderney for 30 years, said: "It was about one o?clock in the morning and I had just got to sleep. The snowball came through and smashed the window. It startled me. This is not the kind of thing you get over straight away."

Mrs Collins' son Terry, 61, raced downstairs as soon as he heard the commotion.

Gardener Mr Collins said: "I was upstairs in bed when it happened and came bounding down when I heard the noise."

An outraged Mr Collins comforted his mother immediately after the incident.

He added: "Whoever did it was long gone when I got downstairs.

"I think the whole situation's absolutely disgusting. To do this and get lost is out of order. Most people know there is an old woman living here."

Mr Collins, who said he would welcome an apology, says his mother still feels shaken.

"She's still nervous. I'd like whoever did this to apologise ? but I don't think they ever will."

Mrs Collins' window was repaired immediately.

Sergeant James Priest, of Alderney Police, said: "It is disappointing these people haven't been back to apologise or offer to pay for the damage.

"Whoever did this clearly knows they are responsible."

Sgt Priest went on to appeal for witnesses to contact the police.

He said: "I would urge anyone who witnessed this event or has information to get in touch."

Alderney Police can be contacted on 01481 824999. Members of the public may also call Crimestoppers, in confidence, on 0800 555111.
---
Next story: Cash stolen from island takeaway
Previous story: New traffic regulations introduced
Current issue 1284 - Dec 1st 2023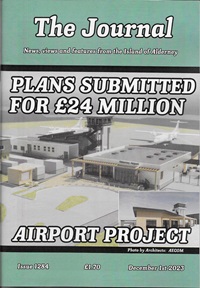 PLANS SUBMITTED FOR £24 MILLION AIRPORT PROJECT
Back Issues
Back issues
of the Journal are now available

The Guernsey Bereavement Service has made three visits to Alderney over the past few months and would like to continue to help you. We are visiting the island again on Tuesday, 12th November 2013 and would invite anyone who feels they would like Bereavement Counselling to telephone the Bereavement Service Office on 257778 to make a time to meet one of our counsellors.

What's on in Alderney

, ,

, ,
Journal all over the World

Great Wall photo wins picture prize
Things to do in Alderney
Contact details of Alderney Clubs and Societies