Airlines row over reliability of autopilots
Posted Tue 26th August 2008 at 10:19
A row over the reliability of autopilot systems has developed between Aurigny and Blue Islands.

Paul Sabin, managing director of Blue Islands, has described the serviceable autopilots in Trislander planes as "old and notoriously unreliable" ? a claim hotly disputed by Aurigny's chief executive officer Malcolm Hart.

The row developed following the introduction of a directive by the Civil Aviation Authority on July 16. New regulations insist Trislanders possess a serviceable autopilot if only one pilot is used in poor weather conditions.

Blue Islands have decided to use two pilots on all Trislander flights from now on, while Aurigny will continue to use each aircraft's autopilot system when weather conditions dictate.

Mr Sabin said: "Certain aircraft can still be flown single crew, but when weather conditions dictate that a flight must be conducted under instrument flight rules, then a second pilot, or serviceable autopilot, must be carried.

"We have decided to use a second pilot under these circumstances as the autopilots fitted to Trislanders are old and notoriously unreliable.

"We feel that a second pilot will provide a more reliable service. Our flights are unaffected and we have not increased the fares as a result of this change."

Mr Sabin went on to say Blue Islands may be forced to reduce their baggage allowance.

He said: "We will reduce our baggage allowance to 15kg from 20kg. Blue Islands will continue to carry extra baggage free of charge subject to space available."

Mr Hart disputed Mr Sabin's comments and said it was his belief that Blue Islands had no option but to use two pilots.

He said: "It is Aurigny's belief that two pilots is Blue Islands' only option as the majority of their Trislanders are not even fitted with autopilot systems."

Mr Hart went on to describe some of Mr Sabin's comments as "misleading".

He said: "Mr Sabin's comment that certain aircraft can still be flown single crew is misleading as all Trislander aircraft can be flown single crew without a serviceable autopilot, providing the weather conditions are suitable.

"The quote about the autopilots in the Trislander is also misleading. The system in all our Trislanders is original equipment and maintained in accordance with procedures agreed with the CAA.

"Our quarterly fleet reliability analysis does not give any indication that the system is notoriously unreliable. It is unlikely Blue Islands would have this type of statistical reliability information available for a system they have never operated."

Mr Sabin admitted Blue Islands had removed all the autopilot systems in their Trislanders.

He said: "We had autopilots fitted to some of our fleet but removed them because of their unreliability and difficulty in sourcing spares."

Mr Sabin went on to explain his other comments and added that only time will tell whether his airline or Aurigny had made the correct decision.

He said: "By certain aircraft I meant most small aircraft, such as the Navajo and Cessna 310. The Trislander is a part of this group.

"We undertook considerable research before deciding on our two-crew route and I believe this will give us better reliability over an old autopilot with few spares.

"This scenario is just two different ways of approaching a problem. Time will tell which is best."
---
Next story: States members could be paid salary
Previous story: Tugby: Courage needed to fund marina
Current issue 1229 - Sep 17th 2021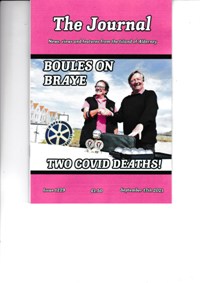 Boules on Braye
Two Covid Deaths!
Back Issues
Back issues
of the Journal are now available

The Guernsey Bereavement Service has made three visits to Alderney over the past few months and would like to continue to help you. We are visiting the island again on Tuesday, 12th November 2013 and would invite anyone who feels they would like Bereavement Counselling to telephone the Bereavement Service Office on 257778 to make a time to meet one of our counsellors.

What's on in Alderney

, ,

, ,
Journal all over the World

Great Wall photo wins picture prize
Things to do in Alderney
Contact details of Alderney Clubs and Societies