Tugby: Courage needed to fund marina
Posted Tue 26th August 2008 at 09:45

States member Ian Tugby has urged his colleagues to have the courage to finance the development of a marina.

Five potential marina sites were unveiled at an Island Hall public exhibition in July and those who attended were given the opportunity to rank the areas in order of preference.

The five sites earmarked are at Crabby Bay, the breakwater, Braye Beach, Fort Albert and Braye Common. Each area will possess enough space for 150 to 200 yachts.

Work on the project could begin as early as next year, after it is approved by the General Services and Policy and Finance Committees.

Marine Working Group chairman Mr Tugby is hoping the States don't seek private investment for the project, which could attract thousands of extra visitors to Alderney every month and cost between £4m and £20m.

Mr Tugby said: "I don't know how the rest of the States members are feeling but I think we need to have the courage to fund the project locally.

"I'd be happy to appoint a manager, who wouldn't be employed as a civil servant, to run the marina on behalf of the States, but it's very important Alderney gets all the benefits from this development."

Mr Tugby said everyone who spoke to him at the exhibition was in favour of building a marina.

He said: "Nobody has said they don't want it so far. Everybody realises we have got to increase the income brought into the island.

"We can't keep putting up costs for people ? we need to bring in sources of income."

Mr Tugby believes a marina could increase the number of tourists to the island six-fold.

He said: "Around 3,000 people came into Braye Harbour on yachts in June so we could be looking at anything in the region of 15,000 or 20,000 visitors with a marina."

Developing Crabby Bay would be the most costly option, according to Mr Tugby.

He said: "A marina at Crabby would probably cost £15m or £20m but all the others should cost in the region of £4m or £5m."

Developing the area near the Arsenal, at Fort Albert, is Mr Tugby's preference.

He said: "I prefer the Fort Albert proposal. It has room for facilities and is an area that could do with developing.

"Also, building there won't affect Braye Beach or involve the risks of developing near the breakwater."

Mr Tugby said the States would work hard to ensure new marina facilities don't affect existing businesses.

"I think it would be good to have a boat maintenance business down there, which would create employment in the island, but I'm not sure about having a supermarket.

"We may build a restaurant but we have to be careful we don't take business away from those that are here at the moment."

The present marina, known as Little Crabby Harbour, is considered too small to accommodate visiting boats. It is mainly used by islanders who moor small yachts and fishing boats and often falls dry at low tide and is usable for only two hours before and after high tide.

Policy and Finance chairman Richard Willmott has already backed the marina idea by saying it could lead to job opportunities in the island.

Speaking at July's people's meeting, Mr Willmott said: "I believe the business a marina can bring to the island is very valuable. The extra trade for restaurants, shops and marina-associated business could boost the local economy and provide jobs for young people who want to remain in the island."


---
Next story: Airlines row over reliability of autopilots
Previous story: Irate family criticise police after raid
Current issue 1270 - May 19th 2023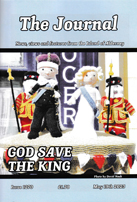 Back Issues
Back issues
of the Journal are now available

The Guernsey Bereavement Service has made three visits to Alderney over the past few months and would like to continue to help you. We are visiting the island again on Tuesday, 12th November 2013 and would invite anyone who feels they would like Bereavement Counselling to telephone the Bereavement Service Office on 257778 to make a time to meet one of our counsellors.

What's on in Alderney

, ,

, ,
Journal all over the World

Great Wall photo wins picture prize
Things to do in Alderney
Contact details of Alderney Clubs and Societies