Regiment marches to the Island Hall
Posted Thu 14th August 2008 at 11:05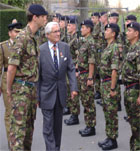 Soldiers from the 30th Signals Regiment marched from The Butes to the Island Hall on the final day of Alderney Week.

The parade began shortly before noon on Sunday and attracted a host of islanders into the streets.

As Alderney's adopted regiment, the 30th Signals exercised the right bestowed on them by the States 20 years ago by marching through the town with pennant flying, drums beating and bayonets fixed.

President Sir Norman Browse inspected the regiment at the Island Hall before hosting a Vin d'Honneur to celebrate the occasion in the Anne French Room.

Sir Norman thanked the regiment for visiting Alderney during the reception and encouraged them to return to the island next year.

The President alluded to the fact the regiment had won numerous Alderney Week competitions, meaning they would have to return to defend their titles.

An Alderney clock was presented to the regiment by Sir Norman, who also praised Alderney Week organisers for all their hard work over the last seven days.
---
Next story: Irate family criticise police after raid
Previous story: Fly-by marks 60th anniversary celebrations
Current issue 1234 - Nov 26th 2021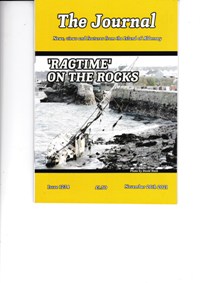 Back Issues
Back issues
of the Journal are now available

The Guernsey Bereavement Service has made three visits to Alderney over the past few months and would like to continue to help you. We are visiting the island again on Tuesday, 12th November 2013 and would invite anyone who feels they would like Bereavement Counselling to telephone the Bereavement Service Office on 257778 to make a time to meet one of our counsellors.

What's on in Alderney

, ,

, ,
Journal all over the World

Great Wall photo wins picture prize
Things to do in Alderney
Contact details of Alderney Clubs and Societies