Fly-by marks 60th anniversary celebrations
Posted Wed 6th August 2008 at 09:00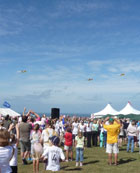 THREE Aurigny planes took part in a fly-by to mark Alderney Week's 60th anniversary on Monday.

A trio of Trislanders flew over The Butes at 3.25pm, shortly after the Cavalcade Parade ? Alderney Week's flagship event ? was held.

Alderney Week organiser Ilona Soane-Sands described the fly-by as 'tremendous'.

Mrs Soane-Sands said: 'It was a tremendous event that all the thousands of people who were here will never forget.

'Getting it organised wasn't easy as we had to get a commercial airline to perform something they don't usually do.

'However, they did a magnificent job, so it was well worth all the effort.'

Holidaymaker Paul Steel was thrilled to see the planes.

Mr Steel, from West Yorkshire, said: 'It was a privilege to see the planes.

'Everyone got really excited when the announcement about a big surprise was made. The fly-by was well worth the wait.'

Anthony Adams, from Dorset, said: 'The planes provided a superb spectacle ? I'm delighted I was here to see them.'

Alderney Week runs until 10 August. Visit www.alderneyweek.net to view a full programme of events.
---
Next story: Regiment marches to the Island Hall
Previous story: Top dog Benjy is king of the cups
Current issue 1270 - May 19th 2023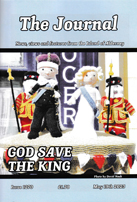 Back Issues
Back issues
of the Journal are now available

The Guernsey Bereavement Service has made three visits to Alderney over the past few months and would like to continue to help you. We are visiting the island again on Tuesday, 12th November 2013 and would invite anyone who feels they would like Bereavement Counselling to telephone the Bereavement Service Office on 257778 to make a time to meet one of our counsellors.

What's on in Alderney

, ,

, ,
Journal all over the World

Great Wall photo wins picture prize
Things to do in Alderney
Contact details of Alderney Clubs and Societies