Alderney tapestry to go on show in Bayeux
Posted Mon 22nd April 2013 at 14:07
Alderney's Bayeux Tapestry is to go on show at the Bayeux Museum and at other towns in France.

Eight French dignitaries flew to Alderney for the launch of the completed tapestry, including President of the Conseil de la Manche, Jean Francois Le Grand, and Sylvette Lemagnen, curator of the Bayeux Tapestry Museum.

The unveiling took place in the Island Hall's Anne French Room in front of an audience of French guests, tapestry stitchers, States members and States president Stuart Trought.

Project creator Kate Russell explained to the audience how a modest idea stemming from a book she had read on the history of the making of the original, had snowballed into a community success story.

Afterwards Mme Lemagnen said she would be happy to exhibit the tapestry at her museum in Normandy. 'The colours are very very good. Also, the chainmail worn by the soldiers is very much like the chainmail in the first part of the original. And it is good to see women in the tapestry - there are only three in the original. My hypothesis is that the Bayeux Tapestry was made by monks - so a tapestry designed and stitched by predominantly women is a good balance.

"I also like the fact that it was created by a whole community. We would display it in Bayeux with pleasure."


---
Next story: Affray victims honoured for second time
Previous story: Alderney wins in Monopoly idea
Current issue 1258 - Nov 11th 2022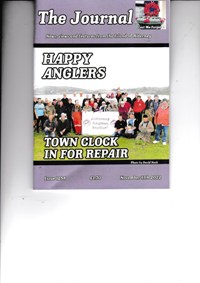 HAPPY ANGLERS
TOWN CLOCK IN FOR REPAIR
Back Issues
Back issues
of the Journal are now available

The Guernsey Bereavement Service has made three visits to Alderney over the past few months and would like to continue to help you. We are visiting the island again on Tuesday, 12th November 2013 and would invite anyone who feels they would like Bereavement Counselling to telephone the Bereavement Service Office on 257778 to make a time to meet one of our counsellors.

What's on in Alderney

, ,

, ,
Journal all over the World

Great Wall photo wins picture prize
Things to do in Alderney
Contact details of Alderney Clubs and Societies